I do not understand my cat's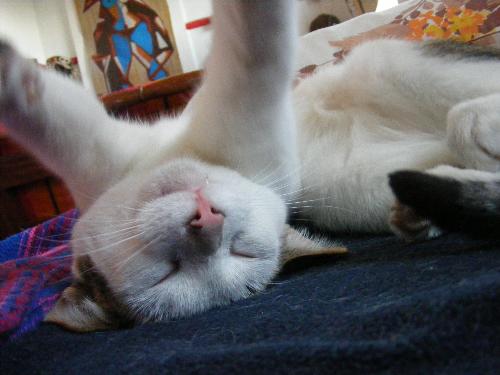 South Africa
March 5, 2008 8:51am CST
I have two cats, and i just cant understand how their brain's work. Maby someone out there can give me some insight on this issue. My cats always go down to to their thing. And it is almost never a problem, but the other day my wife took the underware drawer out and put it on the bed, and after she came beck one of them had a big s..t in it, and a p..s. I do not know how to explain it in any other way, why would they do such a thing?
3 responses

• Philippines
6 Mar 08
cats really like to get back to you whenver you do something that annoys them, we also have the same experience, i once chase our cat because they make alot of noise and i got very annoyed. the other day after work i went home and found out my home slipper smells fishy because they urinate in it when i was away. i just thought that maybe its their way of revenge against me.

• United States
5 Mar 08
I am not sure that being annoyed with something done to them is the answer. I would give it some time, be vigilant and then take the drawer or one similar out again. Lift up some of the top items, removed anythat can be ruined and put plastic on the layer that is exposed, put back regular things that can not be destroyed by urine of bowel movements and leave the drawer out in a different place. Make sure the cat cannot see or feel the plastic below. See what happens. Was the drawer put on a place where the cat likes to sleep??? Cats are so darn complex it is amazing. Frankly a bit scary. I would only do this once and I would wait and do it after time has passed. No one on earth understands how a cats brain works. If you have a problem again, I would just make sure nothing is around that you think the cat will use as a litter box since there have not been problems before. Typically not using the box indicates that there is pain upon elminiation and that is why they avoid the box because they related the box with pain. This however sounds a bit different especially because your cat is both urinatiing and leaving bowl matter. If this continues see your vet. It may be a behavior issue. (make sure the cat is not constipated) Good luck.

• South Africa
6 Mar 08
i realy like your response, it gives more insite into this matter, they are strange creatures, i think it is a good idea and will try it, maby they just think it is a sand box, and can do their thing in it, we use to keep a box in the house, but when they grew up they started to go outside, and maby they identify with the box, maby it makes them think of being young again.lol.

• United States
5 Mar 08
I have found that when a cat does something like that it is to get even with you because they are ether mad at you or they don't like you. Our cat would pee in the bathroom in my step-grandson's bathroom but no where else. She didn't like him because he was ornery to her. May be you mad your cat mad at you for some reason.