A carrot of a different color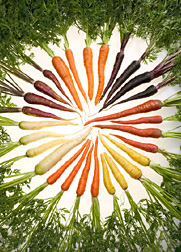 United States
6 responses

• United States
5 Mar 08
I've had yellow carrots in thai food. I think it was thai food. They don't taste much different. Maybe a little sweeter. I don't think I could eat a purple carrot. I just don't know. lol

• United States
5 Mar 08
Where do you find such carrots for sale?

• United States
17 Mar 08
I have never seen one... I have heard they are out there... but have never seen one in person! Wonder how good they are!

• United States
5 Mar 08
They taste very good. I love carrots. Color carrots look so good on plate and can serve as great meal. I use to cook carrots and serve it with nuts and potato....:)

• Kuwait
5 Mar 08
never heard or see this kind of carrot except orange.