What memories do you have associated with certain smells?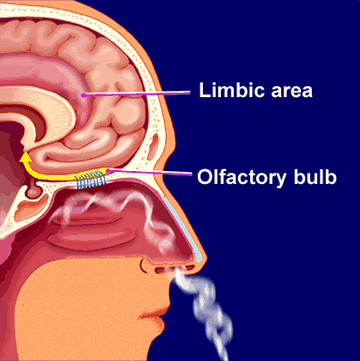 Canada
March 5, 2008 5:54pm CST
While putting on some calgon "perfect bliss" body mist this morning, I had a sudden flashback to the summer of 2007. I wore that scent every single day all summer long, and so to me, that scent brings me to memories of the summer of 2007. Not the best summer in my life, but not the worst either. A summer where I got the BEST tan of my life (no lectures please lol), and the summer where I experienced the most inner personal growth of my life thus far. Other summer smells that aren't associated with any particular year, except my childhood in general, is "Coppertone" sunscreen and "noxema". Ahhhh.... I love those smells. Of course, there are also smells that bring back negative memories, such as the smell from a fireplace that needs cleaning. That sooty burning smell brings me back to the fire I had in a townhouse I lived in when I was 7 years old. So that smell always brings back to me, a sense of fear and confusion. What about you? What smells bring what memories to you? Are they good memories or bad memories? Good smells or bad smells? Please share your story here, you know you have one... everyone does!:)
8 responses

•
6 Mar 08
Oh mine was definately Cucumber. Being 13 and my "makeup" was just a bit of cucumber eyegel. I put it on 20 times a day and went swimming with my boyfriend - Ross McCullagh, big guy with glasses and kid of geeky looking. I was so happy back then. We used to go to the goverment run swimming baths for hours and then go to the country park and kiss for hours and as soon as I smell cucumbers I go right back to that place. I was so happy back then, no worries at all and I loved it. Not seen that guy since we broke up cos then he moved schools and he lived in a different area. Don't think it would have ever worked out anyway cos I definately thought I was too cool for him lol.

• Canada
6 Mar 08
Awww... what a sweet memory from the smell of cucumber! I love it! It's a shame you thought you were too cool for him. There really is something to be said about geeks. I quite like them... some more than others of course. ;)

•
6 Mar 08
Ha ha yeah I have always had a thing for geeks. You know me though Karen, and you know as well as I do that I am a wee bit of a geek too. Technology and maths excite me so much. Its pathetic really so when I meet a guy that likes that sort of thing I seem to just go weak at the knees. Lol.

• Canada
7 Mar 08
I always enjoyed math, but it doesn't float my boat in the way you describe. lmao.


• United States
7 Mar 08
ooohh I have a MAJOR bad reaction to Old Spice cologne..or any of their products actually. Its a major bad trigger for me because my mothers exhusband (tech my 'father') wore it all the time...


•
6 Mar 08
Several smells are evocative of times past to me. New mown grass - reminds me of childhood when we would pack picnics and spend the day deep in the countryside playing, and eating of course. Roasting chicken - because I love it (so long as it's organic or at least free range). Chanel no 5 - My mother and her sisters all used it, my mother in law used it and now my daughter. Caves/damp/sea - Reminds me of exploring the beach and cliffs, and most importantly the rock pools. Finally, and I am not sure that it is a clearly identifiable smell. Just before a summer storm. All the scents seemed heightened, run for shelter, but a blissful moment. I enjoyed that post. Thank you.

• Canada
6 Mar 08
I know that smell you mean, just before a big storm. The air is stagnant and more intense, and has a certain thickness quality to it.

• Spain
6 Apr 08
There are quite a few, I always think of school days and long hot summers when I smell cut grass and the smell of tar also brings back school memories because they were always re doing the school roof. The smell of freshly baked cakes makes me think of my nan and many a day spent in her kitchen and the smell of jif reminds me of her as her hands often smelt of it.LOL The smell of the sea reminds me of my childhood as I grew up near the sea and loved standing on the cliff tops and breathing in all that fresh air.

• Canada
6 Apr 08
The smell of tar brings me back to my childhood too. In the late 70's and early 80's, I think most of the cement walkways in my neighbourhood in Toronto were being replaced with tar ones.

• Canada
7 Mar 08
I actually wrote a few articles about t his very subject, I associate the smell of a fresh green pepper with my mother's kitchen, and estee lauder as her perfume when I was growing up.

• Australia
6 Mar 08
Oh sometimes when a fella walks past with a familiar after shave on brings back memories of ex boyfriends, some good and some not so good....

• Canada
6 Mar 08
I don't associate any particular men's cologne with any particular man. I just know I love the stuff, and it makes me VERY happy (amongst other things lmao!).

• United States
6 Apr 08
Everytime I smell the honey suckle flower, I always think of home, and driving through the back roads in his convertible late at night. Seeing the moonlight and the stars. We'd spend all evening driving and talking. Smelling that always reminds me of those nights.

• United States
6 Apr 08
When I smell English Leather and smell Bond Street or cherry pipe tobaco, I think of my dad. These are good memories. When I smell pines, I get memories of trips to the Redwoods and to other places in the forest and these are good memories of vacations with my parents.