The new series of doctor who will be upon us...

6 responses

•
12 Mar 08
LOL The new series of Dr Who is looked forward to in my house too - Niamh the 6 year old is most excited as she loves the programme! When she sees the old ones from my childhood days she refuses to acknowledge it is Dr Who - only Chri Eccleston and David Tenant count! xxx

•
12 Mar 08
My son thinks the old doctor who's are funny, he laughs at the monsters but in the new ones he is scared by the aliens...Doctorrr Whoooo, hey doctor who...oh dear better not sing that gary glitter song anymore...it ruins my memories of doctor who!

•
12 Mar 08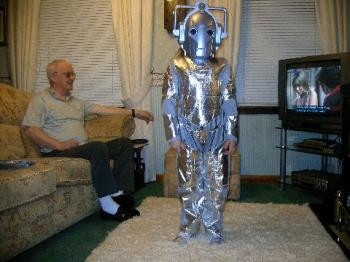 LOL Remember all that hoo ha when it came back 3 years ago and they were saying you shouldn't let children under 12 watch it! Hee hee hee We all used to watch it from behind the couch or with a cushion to hide behind the scary bits at! Can you tell Niamh likes Dr Who from the photo?


• Canada
12 Mar 08
I never watched the original, nor have I watched the new Dr Who series. Although I've heard it's excellent, I would much rather watch some old Red Dwarf reruns. ;) Actually, I don't even know when it comes on here or on what tv stations. I watch enough shows as it is, and with my addictive personality, it might not be such a smart idea to start watching yet another one.

• Canada
13 Mar 08
It's been years since I saw any episodes. My ex husband used to have a bunch of them on vhs tapes, and watching them with him is how I learned about it. I haven't thought to try and find some online and burn them onto dvd. I don't use the desktop computer much anymore, and I can't do those things on my laptop.

• United States
7 Mar 08

Don't keep me in suspense Bud! When is it coming back? I need to know right now!I can't wait either. I wonder who his plus one will be this season. I thought Kylie did a passable job in the Christmas Special. I downloaded it off the internet and still have it on my desktop for when I just need a fix. I also watch the Children in Need special when I only have time for a quick fix. I can't wait to hear the cries of "Exterminate!"

•
12 Mar 08
Donna is going to be his plus one and martha will return and so will rose and plus there is more stuff going to happen I just know it...oh and the unit make a return from the old doctor who way back, they are the military friends of the doctor (well not friends exactly but they always come round to trust the doctor!)


•
12 Mar 08
I'm not to fussed about donna, as she has grown on me and the thought of her being the doctors companion is a breath of fresh air, alot of people are not to pleased about donna being in the next series, but just go with the flow things change and evolve in these tv shows and change is good!

•
7 Mar 08
Hiya Wayne, not spoken in a while, how are you doing? Anyway onto Dr Who, I'm not sure if you are aware but they film a lot of it right here in Cardiff where I live. & they filmed a few scenes for one episode right outside our flats here. Anyhow, one of their power transformers broke & they needed power for one of these huge lights they had on cranes in the street & ended up running an extension cable to my mums shed. Couldn't really see a lot of the what went on during filming as it was raining really heavily. But you'll know when it is the episode because it was set at Christmas & there's a pub in the scene :)

•
8 Mar 08
I'm doin fine, how are you? Bloody hell! I can't wait for this series to air soon! Yeah filming in cardiff is cheaper apparently, if they filmed in london there'd be other costs associated with the budget and location costings. So they ran cables through your mams shed, I hope they paid their way in free doctor who dvds!!

• St. Catharines, Ontario
6 Mar 08
Oh, no! Not another one! (Just kidding.)