Do you Use an E-Reader?

United States
March 6, 2008 10:56pm CST
The thought of using an E-Reader has never appealed to me. I like the feel of an open book on my lap, the feel of the pages. I like how my room looks, its shelves packed with books. I just can't imagine giving up paper for an electronic device. Apparently E-Readers are popular. Amazon.com offers Kindle. I'm an Amazon affiliate, so they're offering %10 commission on every E-Reader you sell from your site. I did some more checking, and the E-reader is sold out. I put the affiliate link on my blog. Do you use an E-Reader? Why or why not? For those who do use e-readers, which ones have you used and which do you like best?
5 responses

• Italy
7 Mar 08
eheh i'm an amazon affiliate too and so i'm promoting kindle as well as regards all others amazon products!!personally i think it is nice as idea to have an e-reader especially if in your habits when you have your activity on your computer is that to read directly different types of documents as books,ebooks,articles,newspaper and so on...

• Italy
7 Mar 08
now not but in this period i don't spend many time to read things like i mentioned before on computer...

•
7 Mar 08
its boring and time taking work to read books from ereader i hav alots of books but take printouts hate to read via ereader

• United States
7 Mar 08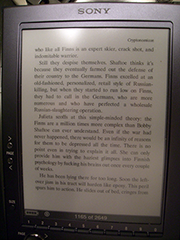 I feel like e-reader is not for me. I don't mind ebooks to listen to when driving. I need to hold book in my hand when reading. E-reader may be good money and space saver, but I am not convinced to do it....

• United States
7 Mar 08
I don't...I have seen them but they don't really appeal to me either. I do a ton of work on the computer, but often times I have to print longer articles or things I really want to read and comprehend because I do better with a hard copy. I am interested in seeing what other input you get from people who have used them.

• Dominican Republic
8 Mar 08
I'm like you I prefer to feel a book in my hands and actually turn a page over. I have done so much work using a computer screen that it wouldn't seem like a pleasure if I had to sit at my computer and actually read a novel that way. Plus I like to curl up in my seat or on the bed when I'm reading. It is so relaxing! But the good thing with e-readers is that if anyone is living in a remote place then they get the chance to 'read books' too. So I think it's a great idea but just not for me!

• Philippines
8 Mar 08
I use an E-Reader. I have to say that having an E-reader has its advantages and disadvantages. Advantages: 1. You spend less money in buying books 2. You can bring the "book" anywhere without the added of weight of the usual book. 3. You save space. Disadvantages: 1. Your eyes tire out more often. 2. It's not the same as when you hold a book in your hands and feel its weight and pages. I don't really have any particular device, I use either my laptop or cell phone. I just download a PDF reader and a Microsoft reader. I've noticed that most ebooks are in PDF, .lit, .txt, .rtf, or in MS Word formats.