Spring decorating projects

United States
March 8, 2008 10:03am CST
I can't wait for the weather to start warming up and I can get started on a couple of projects. I want to take down the border in my dining room and paint and get a new ceiling fan and curtains. I also want to paint and get new carpet in my bedroom. The carpet is very old and needs to replaced. Do you have any spring decorating projects in your future?
4 responses

• United States
26 Mar 08
We've just finished remodeling part of our house. We have a few more rooms to do but we're going to take a break for a little while. My spring project is our deck. We have a new deck on the upper part of our house and I need to make it liveable. Its my decorate the deck spring. I can't wait!

• United States
25 Mar 08
I feel like it's time to find a new place to live. I have no where to work on my bags. I use my dining table for the sewing and it's not good. I want to be able to see the top of my dresser. I can't being I have no storage for the things I do have. My daughter needs a place to hold her computer when she gets it. But we have no space here. When I do find a place I want to paint it and go to family dollar and tjmax to get some home decor items.

•
8 Mar 08
Oh I have so many things that need to be done around the home at the moment I really don't know where to start so I'm going out into the garden instead to tidy everything and put a few bits on freecycle that no longer needed, once thats done I may move indoors and start on my bedroom, have a beautiful colour that needs to be painted there called Pashmina which is a very pastelly pink colour. Ellie :D

• United States
8 Mar 08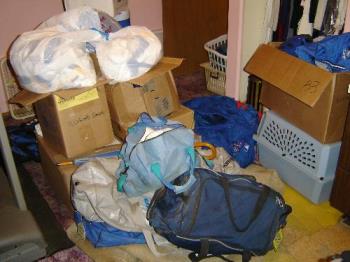 I do have a few spring projects that need to be done around the house. I need all the carpets cleaned and a couple of rooms uncluttered. One bedroom, which is behind the washer, seems to get wet just once in awhile when I wash. Think the hose needs to be replaced. That particular room needs to be painted, new carpeting and a closet door replaced as a result. My son-in-law just insists that he is going to do it. Our daughter is going to rip off the wallpaper and help paint. My husband coaches softball so he has stuff thrown all over that room and extended it into the family room which is next to the spare bedroom. Shelves are going to be put on the walls so the equipment can be stored without looking so cluttered and sloppy. This softball clutter has been going on for almost 10 yrs. so it's time to get a handle on the project and go forward. Below is a picture of some of the mess. Alot of the equipment has now gone to the players so it's out of the house for a few months but it will return. My husband is lucky I am so nice about it..lol We have another bedroom upstairs that needs to be uncluttered also. I have yarn and sample crafts stored under the bed and junk piled all over the bed. It needs help also. Our house was painted last year so it looks great inside where it's not cluttered.

• United States
9 Mar 08
I painted outside last year. My bedroom carpet is still the shag from the 70's....but since it's a room that is only used by me it's held up. But I haven't really liked the border I put up in the dining room since I did it so it's coming down! I can't wait for a little warmer weather! Woo Hoo! Won't if feel good to get things spruced up?