April fool is nearing - Any great ideas to fool others?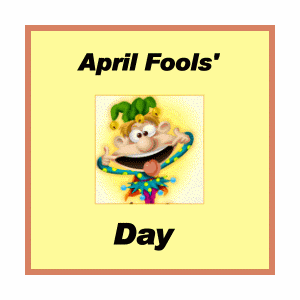 Singapore
March 8, 2008 11:05am CST
Hello everyone, April fools day is nearing. I want to fool my friends in a big way this year;) I want some great ideas. It should not really hurt anybody... but i want to fool them and have some fun. So, i request you all to give me some great ideas so that i can have a hearty laughter at the end of the day:) Thank you guys! Thanks in advance.
2 responses

• United States
8 Mar 08
My favorite pranks are; -pulling the chair out when someone is about to sit down. [cruel, I know but I think it's hilarious xD] and -cooking something alone in the kitchen, squirting ketchup all over my hands when no one sees, then screaming bloody murder and pretending I hurt myself. xD

• United States
9 Mar 08
I call my dad every year and tell him I'm pregnant. Now, I have four kids, and he knows I am fixed completely. But the sound of his voice cursing obsenities is hilarious. Throw a rubber cockroach in a bowl of soup or put it on top of supper that night. Might turn someone green...haha! Set the clocks forward 1 hour that night, the next morning is priceless....hmmm honey, you got up early for me??!! Vaseline the doorknob to the bathroom, makes it rough on the green person with the cockroach in his salad. Jello in the toilet the night before after everyone has gone to bed is a good one. It sets fast, even faster if you put ice cubes in it. Get up that extra hour early and scream that you don't know any of these people in your house. Ask stupid questions like "where's my husband earl?" "why are you children here, I thought I told jahovah witnesses to take you with them". "my name is marilyn monroe, not mom". Threaten to call the cops and watch them squirm, get on the phone and pretend to dial 911 and say "yes, can I get an officer to come to (state your addy) because I just pulled a killer april fools joke. LOL just remember its one day out of the year and maybe next year they might get you back!!