Describe your most unusual looking cat please.

United States
March 9, 2008 12:49pm CST
My most unusual looking cat had eight toes in the front and 7 toes in the back. He was boxy built/looking. He had a huge head. If you've never seen 8 toes, it's quite estra-ordinary. It looks like two 4 toed paws attached together on one leg. So what did or does your most unusual cat look like?
2 responses

• United States
25 Mar 08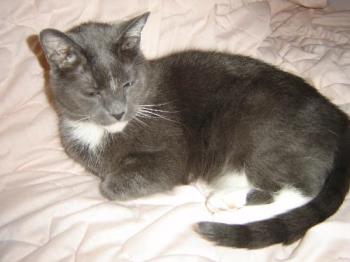 A cat with 8 toes! That was interesting. Was your cat friendly and a good pet?We have only had one cat and she is still with us. I wouldn't say she's unusual to look at because she's an ordinary cat with a wonderful disposition. When I call her, she comes to me. She lets me know when she needs something such as food, water or the litterbox changed. She greets everyone who comes into the house. I have enjoyed this cat immensely.

• United States
1 Apr 08
Hello Chloe the cat, wish I could see her face better. She sounds like a dear, sweet, kitty. Take care

• United States
11 Aug 08
You're welcome. I have many discussions with zero responses. Could you see if you can answer any of them? Much appreciated. Thanks


• United States
9 Mar 08
Wow, I would like to see a picture of that, I have never seen a cat with 8 toes before..

• United States
9 Mar 08
Unfortunately, I was a starving grad student at the time and didn't take any pictures of that cat. Even if I had, I probably wouldn't have thought to take pictures of his feet. I'll have to see if there are any 8 toed cat pictures online. I've only seen 7 toed cats since. I really, really wish I had taken more pictures of the animals I've had in my life or even any pictures of some of them when I was poorer. I have pictures of my current cat, but none have come out well so maybe it would have been a waste of $ and no one would have been able to make it out anyway.