coca-cola zero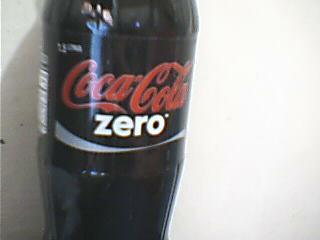 Philippines
March 10, 2008 4:48am CST
heard about this already? i saw it yesterday at the grocery and bought one to taste it. i dont understand what is the difference between coke light and coca cola zero. though the taste are different. coca cola zero taste good more than coke light. have you taste coca cola ZERO? hoe did you find it? or you would rather drink another brand or you would rather drink the regular coca cola?
6 responses

• India
10 Mar 08
About coco cola zero,i am hearing for the first time.I dont like drinking cola and dont want to try it.

• Philippines
12 Mar 08
hi roni!

i haven't tasted coke zero. although my friends told me that it doesn't really taste differently from the regular coke and coke light. i think the only difference is that coke zero has no sugar, coke light has little sugar, and regular coke has lots of sugar. i think it wouldn't matter to me which ever i drink if they all taste the same. i'm not diabetic so regular coke is okay for me.

but actually, i prefer drinking sarsi or rootbeer.


• Philippines
13 Mar 08
coke light has this after taste, it taste like dirty water lol. hahaha. sorry for that. but coca cola zero does not have that taste. coke regular and coke light has different taste so i dont know how your friends link the taste of zero with regular and light. i am confused lol. thanks for the response

• Philippines
13 Mar 08
dirty water? ew. come to think of it, i have never tasted coke light. so i can't really say anything about it. i still haven't tasted coke zero so i can't compare. should have asked another friend who drank coke zero last night. but isn't it ironic? coke was supposed to provide sugar and lots of calories. that's its essence. but since they are producing this new coke varieties, i think its essence is being destroyed.


• Philippines
15 Mar 08
so what is the essence of you replying on my discussion if you have nothing to say.... just kidding. well coke wants to cather to everybody so they made something that is sweet and something that is light and something that is totally no sugar (as what they are claiming). now any one who loves to drink coke whether with diabetes or not can now drink coke. and talino nga e. wink wink


• Philippines
14 Mar 08
I tried coca-cola zero a few weeks ago... and its taste is not at all different from the ordinary coca cola... which is good because... i think this coca cola zero doesn't have any sugar in it... so it is the best alternative for those who have sugar problems in their body... i hate coke light... so i think i will switch to coke zero... even if i don't have any sugar problems...

• Philippines
15 Mar 08
i dont have any sugar problems also but some of my relatives does. but i am taking care of myself... prevention is better than cure. but i am not a cola drinker myself, i drink cola ocassionally. i drink iced tea more than cola. but with pizza i drink cola wink wink. thanks for the response

• Philippines
14 Mar 08
Hi roni. My husband bought two 2L of Coke Zero, said he wanted to try it.

I much prefer to drink Pepsi but I have to help my husband consume those colas. I really don't like this Coke Zero. Too sweet and it has an after taste that doesn't just go away after drinking some water. My husband explained that it's called Coke Zero for it has zero sugar content. Zero sugar content? But too sweet?Ah, ok!


• Philippines
15 Mar 08
hahahahaha, yes i understand what you are saying. i send a friend of mine in japan this 3 in one coffee no sugar... and he was saying that maybe the manufacture did some mistakes because the coffee is sweet but it is said that it has no sugar. well i just hope that when they say sugar free it is really sugar free. thanks for the response

• Philippines
14 Mar 08
yes,i saw it in our canteen.but i never tasted it..

• Philippines
15 Mar 08
thanks for the response. you can earn more points miranette if you post your response on four or more lines. goodluck and happy posting