Is it just me....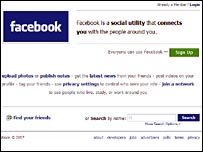 March 10, 2008 10:00am CST
or are you the same and hate that every application you want to add you have to invite a lot of friends first. It is very annoying and i bet more than half of those invitations are ignored by your friends, so why do we have to do it. Every time i logg in i have like 20 messages waiting for me and most of them r invitations to some applications and of course i ignore most of them. It is very time consuming and if i want to stay in touch with all my friends i just don`t have a time for it. Do you find it annoying?
4 responses

• United States
10 Mar 08
I hate that! I've gotten to the point that if an application asks me to invite a lot of friends first, I just delete it. I know my friends aren't going to add everything I send them so I'm not going through the hassle of inviting them in the first place.

• United States
10 Mar 08
Yes!! I hardly ever get on my facebook any more for that very reason. Some of the applications are fun, but I dont want to invite a million people to it! I have recently joined a different site called Yuwie. Its easy to use and people there are very friendly. I am constantly getting messages and comments and meeting new people. if you are interested, i have a referral link in my profile!

• Canada
14 Mar 08
I usually use the ignore button a lot as well. There are a couple that I find interesting and end up adding them, then I'll give them a try, if I find I won't use it for at least 2 weeks I just remove it. I do find some annoying though.

• United Kingdom
11 Mar 08
Yes, that is annoying. They have started a "report forced invites" thing for some applications. Then others tell you at the beginning that you have to invite but they never tell you before you add the application. That's the worst thing. At least if I knew I would have to invite friends, I could just not go to it in the first place. I know a lot of people don't really want to send the invites and only do so because their time would have been wasted if they don't but I would prefer it if you didn't have to send them. I don't mind people sending me stuff I might actually be interested in but it is a pain when I get stuff just because it has to be sent to so many people.