I love cloud watching!

Philippines
March 11, 2008 9:38am CST
Yes, I love clouds. Even up to now I still can't help but stare at the beautiful clouds. I like watching them as different figures appears and then changes again into another figure. I also love taking pictures of clouds. Are you fascinated by clouds? Do you like watching them?
4 responses

• United States
12 Mar 08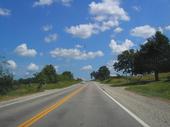 I have always been a cloud watcher - I get as much exhilaration looking at clouds as I do looking at the stars in the night sky. your discussion reminded me of the song, both sides now, by judy collins... are you familiar? here is the verse and refrain that mention clouds....[i] Bows and flows of angel hair and ice cream castles in the air And feather canyons everywhere, I've looked at clouds that way But now they only block the sun they rain and snow on everyone So many things I would have done, but clouds got in my way I've looked at clouds from both sides now From up and down and still somehow It's cloud's illusions I recall I really don't know clouds at all[/i]

• Indonesia
12 Mar 08
Go along discussed, the cloud beautiful and enchanted, often the person made a poetry with the cloud expression