The Time Is Near...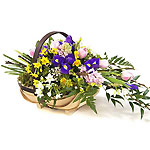 March 11, 2008 5:38pm CST
.. that I have to start preparing for Ostara/Spring Equinox. This falls on the 21st March, which, as Easter is early this year, is on Good Friday in the Christian Calendar. Boy... I just realised, there's only ten days to go. I must start decorating some eggs and preparing some baskets ready for the celebrations. Time has certainly crept up on us. Ostara is regarded as a time of renewal and new growth, so we will plant some seeds, and take a walk in the countryside, a park or in the woods, noting the new life which is awakening, and the new life in the animal world; being at one with nature. Plants are beginning to come up, flowers are blooming, insects, such as dragonflies will be flitting around again, and birds busily building their nests. My home will be full of the colours of Spring with flowers I have either gathered from the garden, or received from my kids, and for the grandchildren, I will be hiding Easter Eggs, which they love to go and hunt for. Hot cross buns derived from the Saxon celebrations, and are still a big part of Good Friday, so they'll have a double meaning for me this year. It's also a Pagan custom to leave baskets of flowers, or small gifts on the doorsteps of those who can't get out of doors, either because they're old, or incapable. Egg-shaped candles will be burned, to celebrate new life, and the strengthening of the Sun, because at Spring Equinox, Day and Night are equal, and the light is waxing. How do you celebrate your Easter? Do you like to walk amongst the new growth, and ponder the seasons and Nature's cycle? All religions seem to celebrate a rebirth, and the growth of new life, but some of the customs differ, so I would like to hear how you all celebrate Easter/Ostara/Eostre/Spring Equinox and please tell me what your name is for this festivity.
9 responses

• Murfreesboro, Tennessee
11 Mar 08
I haven't really made any plans yet either this year. Since everyone here has been sick, it hasn't been in the forefront of my mind. Typically, the spring celebrations in my house are pretty multicultural. My husband celebrates Easter, and I celebrate the Spring Equinox. Since our son came along, we buy him Easter stuff now. Last year he got a Spongebob Squarepants toy with bunny ears, which he was pretty fond of. This year now that he's a little older, he'll probably get to have some candy too, though he's still young for dyeing eggs and such. My own Spring celebration tends to involve music a lot. It's too early to plant anything where we live, because it would pretty much die right away. Even indoors, I haven't had any luck with keeping new plants alive at this time of year here.

•
11 Mar 08
Yes, the rest of my family are Christian... so I normally get two celebrations, but this year, they fall together. lol. It's lovely that Dusty has parents of different beliefs because he can get involved in both your customs as he gets older, and will then be able to decide which he finds most meaningful. Lecanis, the year seems to be flying so far, with everything that's going on, not only for you, I'm afraid. I'm all behind. Just looked at the date on my computer and panicked. lol. Happy Ostara to you my dear friend, and Happy Easter to your hubby... both to little Dusty. I'm sure he'll enjoy it whichever way it is! lol. Brightest Blessings. x

• Bulgaria
12 Mar 08
In my country Bulgaria, Easter is very important event. We paint eggs and make Easter cake for the children. In the midnight the people go to a Church and circule three times around it with candles . In the morning we all go to a Church again, but for the morning celebration with prays songs and flowers.

•
12 Mar 08
Wow... thank you for the insight into your religion and practices in Bulgaria. I find it all very interesting... it's the first time I've heard anything about Bulgarian traditions. Three times around the church with candles, huh? Then celebrate with flowers, prayer and song? It all sounds wonderful and I'm sure Lecanis will agree here that these activities, and forms of celebration ring a very loud bell!

Your traditions are very old, possibly even ancient, and compare very favourably with our beliefs. Thank you again for enlightening me, and Brightest Blessings for a very Happy Easter.


•
25 Mar 08
You forgot to mention it was also my birthday on 21st March. lol. Thank you for the present and for the birthday cake you made me. I really enjoyed the day, and hope you did too. Next week, the clocks change as well and hopefully the weather will change with them. ;)

• United States
23 Mar 08
Sorry I'm late with this---Ostara is already passed now and tomorrow is Easter...since I was very low on funds there wasn't much special I could do about celebrating Ostara the way I normally do (nor will I for Easter)--did manage to do a prosperity and healing spell the night before Ostara though, and it sure doesn't look like spring around here..nothing is budding or blooming yet,but maybe I can try to make up for celebrating both once I get some of the green stuff...hehee

•
23 Mar 08
No problem, my dear friend. I'm sorry to hear that you're short of funds, but does it really matter? Three candles and a half hour of your time, doesn't cost too much does it, and let's face it, it's your intentions that count, not the equipment. Rituals can be done anywhere, with a temporary Circle, a natural Circle, whatever you wish. You have your altar, don't you, so as long as you can draw the energies, that's all that counts. In ancient times, they had nothing... they used their personal "gifts", Nature and the Elements. Brightest Blessings, my dear friend... look now to Beltane, when you're sure to have some sign of Spring. Sow your seeds.


• United States
13 Mar 08
I prefer to celebrete "Resurrection Day" versus Easter. I have also gotten away from the Easter Bunny and eggs thing, but I must admit that I like chocolate.

•
14 Mar 08
I believe that's what Easter Sunday is... Resurrection Day? I love chocolate too, especially Cadbury's. I quite like the little coloured sugar shell ones with chocolate in the middle too (Cadbury's Mini Eggs). Brightest Blessings and thank you for your contribution.

• United States
12 Mar 08
We celebrate Easter with eggs and getting together with family. When I was young we went to church but not too often anymore.

•
12 Mar 08
I think most people, and many religions celebrate in the same way. No matter that you don't go to church, your God is in your heart, and you're celebrating a significant time in your religion. You don't need to be in any particular place to do that, as long as you have faith, do you? Brightest Blessings for a very Happy Easter.

• Davao, Philippines
12 Mar 08
we have a program after friday that falls saturday evening, we celebrate this program worldwide...remembering jesus on his last supper...i am a member of mountaineering group and we plan to climb the highest mountain in our place during that season...but i can't go with them because i am invited to join our yearly high school batch reunion that falls on saturday also...i have a lot of transaction this week and also the next week...last week of class so many projects to do.

•
12 Mar 08
Oh, it's such a shame that you can't climb the mountain, but the school projects and bath reunion are important, and your Easter celebrations annual, so next year, maybe you can join your group again. Brightest Blessings and thank you for your contribution. Happy Easter.

• United States
14 Mar 08
I don't celebrate Ostara, but my Sis does. I celebrate Esther/Spring Tide. Knowing what the holiday is founded on and what I believe in are part of my celebration. I do a fast during this time so when the Spring has sprung there is a rebirth. I will tell you since starting my fasting 5 years ago, I have learned so much for my spirituality it is amazing. Happy Ostara to you. Ainge

•
14 Mar 08
Well, thank you for that, my friend. I looked up Esther because I didn't know much about it, and I see you fast the day prior, and then celebrate on the day. Again, it's similar to our ways but there's a different reason behind it. Most interesting. I love to learn about different religions and cultures, and yes, I can see why you have grown so much in spirit since starting your fasting. I too have found much comfort and spiritual growth within my "new" tradition. Brightest Blessings and thank you very much for your contribution.


• United States
19 Mar 08
I actually fast for 7 weeks, but with celebration in between. I am making lamb stew for our dinner in two days. Thanks, Ainge


• United States
12 Mar 08
Normally, my family celebrates Easter in a more Christian tradition, but they are too old now to partake in the egg hunting and other festivities. So, I don't know what type of celebration they are going to want to participate in, but that can be their choice. This year I have been looking into the Wicca religion. In past years, we have had friends who are Wiccan and I have learned some about it from them, but never really got as involved. Unfortunately, over the last few years, we have lost touch with those friends, but I've felt more of a draw to look into what it's all about and I can relate to many of the beliefs. I'm not quite sure how to celebrate this myself as of yet, so I'm kind of using the posts here to get some ideas and suggestions. Now that my children are old enough to make their own choices in relation to religion and they aren't looking up to me to be an example, I feel I can do that.

•
12 Mar 08
Well, I don't want to influence you in any way as to whether you should take up the Wicca path, but since you mentioned your interest in it, then I won't turn you away, or try to tell you which is the right way for you to go, but I can refer you to some reading which might help you to decide whether you want to step onto the Wicca Path. I am in the process of building my own website in fact, which might help you a little. It can be found here... www.freewebs.com/mysticalmoonbeams Then there is a free, one year course which you could follow, and make your decision based upon what you have learned, on... www.magickaschool.com There is also some great reading on www.avalonia.co.uk This site will give you an insite into basic Wicca and the Sabbats can be checked out also. You might find those helpful, and there are plenty more if you don't. The great thing I find about Wicca is that you can tailor it to suit yourself, so that you feel comfortable with your personal beliefs. This tradition allows you to do that. But, you need to be absolutely sure and comfortable with your decision that this is the right path for you. Brightest Blessings and good luck, my friend. I will check back later, if you need an idea of how Ostara is celebrated. I have to go watch my granddaughter's play now. Later!

• United States
13 Mar 08
Thank you so much for the links. I have been trying to find information online myself and although I don't mind paying for things, I would rather reserve that for when I'm more positive about my choice. I'm currently going through the courses at Magicka School. I do have a great love for nature already. My latest hobby is photography and I find myself taking most pictures of natural things instead of manufactured things. I have over 600 hundred pictures of lizards, birds, water and trees. People think I'm crazy sometimes LoL May I do a friend request so that I can speak to you more personally if I have further questions?

•
14 Mar 08
You're quite welcome, and I hope you find something to suit you. That's how I was at first... I found out as much as I could for free, then enrolled in some courses. Wow... a great collection of photographs. There's nothing mad about that... you just appreciate the beauty of nature. Yes, of course you can send a friends request, so that you can message me any time you need to ask a question. I'll be glad to help at your request, but it's not my policy to tell you what to believe in. That's your decision. I'll gladly answer any questions I can though... you sound as though you'll find your comfort zone!

Brightest Blessings and happy reading.

•
12 Mar 08
Like you I am Pagan so I call the festival Ostara, I've already planted some seeds this year, I have some catnip growing and am anxiously waiting to see if chilli seeds I planted will germinate. I'll certainly go out for walk on the day to see nature in all it's glory, hopefully the gales will have stopped by then lol. We'll probably have a nice roast meal too I might get a leg of lamb in as that is traditional and will be a treat as we don't normally have it. And I'll be eating chocolate eggs too as is the tradition and one of the tastier ones too.


•
12 Mar 08
Brilliant! I like lamb roast as well, especially with mint sauce. A dairy dessert would be relevant as well... just a thought. I have quite a sweet tooth at time. Do you bake honey cakes? Whatever, it sounds as though you'll have a brilliant day and weekend. The gales should die down by tonight, so I wish you all the best, and Brightest Blessings come with my wish for a very Happy Ostara, my dear friend. x