[b]Famed tall ships to grace Duluth Harbor[/b]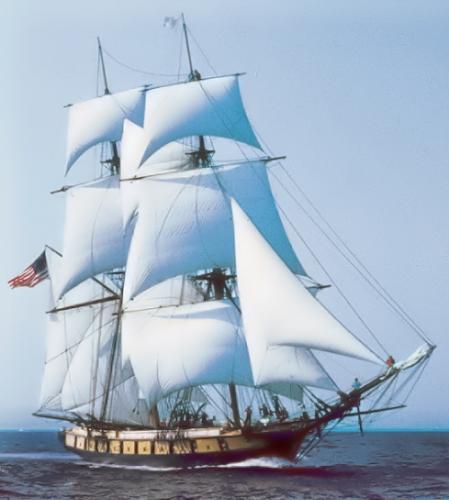 United States
March 12, 2008 2:13am CST
Have you ever seen or heard of "tall ships? They are the old time sailboats from the 1800's with many sails on them. This is awesome as I get to see them and maybe even take a tour on one or more this summer. Duluth Minnesota, about 145 miles from me, will be the backdrop for one of the most stunning sea-bound views this summer when three tall ships enter the harbor in celebration of Minnesota's 150th anniversary celebration. The Pride of Baltimore II, from its namesake city and the U.S. brig Niagara of Erie, Pa., will stop in Duluth on their 10-city tour of the Great Lakes. These two War of 1812-style reconstructions will be joined by other maritime visitors for a three-day festival of music, entertainment and food with a focus on the maritime history of Duluth and the Great Lakes. The third ship is the schooner Madeline, a reconstruction of a Great Lakes vessel that sailed the upper Great Lakes 150 years ago. The Pride of Baltimore II, with its working cannons, was commissioned in 1988. It succeeded the original Pride of Baltimore, which sank in a white squall off Puerto Rico in 1986, taking her captain and three crew members down with her. The Niagara also was built in 1988. It has propulsion engines and modern navigation equipment, but without modern amenities. During the summer, Niagara is sailed by a crew of 16 professionals, supplemented by 20 trainees willing to live out of a duffel bag. The ships will be in the Duluth Harbor Aug. 1-3. Public tours are scheduled. www.decc.org HAPPY POSTINGS FROM GRANDPA BOB!!~
4 responses

• United States
16 Mar 08
Oh Bob I may have to figure out a way to make a trip to see this - I've never seen a 'tall ship' in person but have for years been fasinated by them. I am envious of the great photo opps anyone seeing this will have.

• United States
16 Mar 08
I am going to love seeing them. As a child I used to build the models of this type of ship with all the string etc for the sails and all. Lot's of hard tedious work but fun none the less. Thanks also. HAPPY POSTINGS FROM GRANDPA BOB !!~

• United States
16 Mar 08
I actually saw a kit for one a few years back in a hobby store and wanted it so bad but couldn't afford the kit even. I would love 'assembling' one though. I've always loved the water and sailboats just seem so peaceful and romantic - the tall ships have some horrid stories behind them but at the same time were a huge part of our history.

• Australia
14 Mar 08
Yes, I sure have heard of the "Tall Ships". They attract quite a lot of attention in Australia. I think because with our isolation, these ships were very important in the early days of our colony. One of the more famous Tall Ships is the Endeavour, which as been reconstructed. I have been on it & had a good look around. My husband sailed on it a few years ago. My convict ancestor came out on a tall ship, called the "Lloyd" (1833). I have never been able to find a drawing of it & I would dearly love too.

• United States
14 Mar 08
They are awesome. I used to build model ships and loved doing all the string work on them for the sails. A lot of tedious work, but well worth it at the end. I believe there will be the same tour coming to the land down under. Not positive but thought I'd read the same ships are touring the world this April through October I think. Don't quote me though.

Must have been awesome to sail on one of the tall ships as well. I'm jealous now.

HAPPY POSTINGS FROM GRANDPA BOB !!~

• Australia
16 Mar 08
When my hubby went on this tall shop, the Endeavour, he went for a days fishing. It was before I met him, otherwise I would have insisted on coming to.

• Canada
21 Jul 08
We had the tall ships come here to Toronto a few years ago. It was amazing to see. I went down to the harbour, and you don't get a sense of how big they are until you are beside them. It's amazing that there are people who keep these traditions alive.

• United States
21 Jul 08
I have never taken the tour, but I have loved seeing the ships when they're in Baltimore. It's a very humbling experience to see these ships in our local harbor.