Using Plastic to keep fried food crispy?!?!?

Singapore
March 12, 2008 2:29pm CST
I was reading some of the emails that were circulating around when this one really caught my attention! It was rumored that in order to keep crispy food crispy for a long time, the hawkers actually melt some plastic in the hot oil before frying the food that were meant to be crispy. This would include banana fritters, potato chips, tapioca chips, crispy chicken... etc. With the melted plastic in the oil, this is how fried fritters remain crispy even if u leave them in the open air for hours! This is indeed frightening if it is true! Anyone verify if this is true? Man~~~ I gotta lay off those crispy fried foods from hawkers, especially those that operate in night markets and make shift stalls! How do these people sleep at night?!? Knowing they are poisoning the people who buy their goods and putting money in their pockets!
3 responses

• Singapore
14 Mar 08
I think the article was about foodsellers in malaysia. I read the headlines, took a look at the picture, checked that it did not happen locally, and then dismissed it. Quite awful hor? I guess if it happened locally there would be a huge outcry and HSA and AVA and whatever will be up in arms. But when it happens overseas, the thought is just, wow glad I live here where there is a lesser chance of such scary things happening!

• Singapore
27 Mar 08

I tell you, I cannot believe my eyes when I saw the news article! I started a thread here -- http://www.mylot.com/w/discussions/1450478.aspx?p=0

Man... these hawkers are really despicable! I mean, if they cannot keep the food crispy, dun sell them then. Only fry when you there are orders! Why resort to such means that will harm so many who buy their food?

• Dominican Republic
14 Mar 08
Me being a little dumb here - I thought plastic would smell if it were heated up....? Plus it would kill the pan - not mentioning of course what it does to humans... The really are idiots - and I haven't got a good enough rating to put the smiley on.... :(

• Singapore
27 Mar 08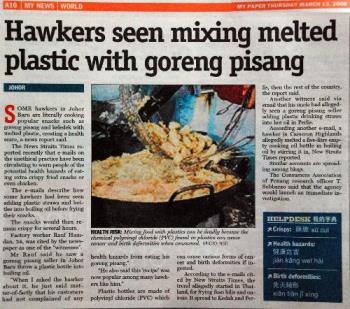 The smileys will come in time! Don't worry! Thanks for posting here wickedangel. I do hope you enjoy your time here in this forum as much as I do. Well, according to the news article -- http://www.mylot.com/w/discussions/1450478.aspx?p=0 the hawkers use only a small quantity of plastic in the oil. So given the large quantity of food they fry to sell, I guess the smell would be really negligible as compared to melting the plastics directly. Sigh... the low downs of what people would do to make a few extra buck!

• Singapore
14 Mar 08
Geez, I hope not. It is toxic. It is poisonous!!


• Singapore
27 Mar 08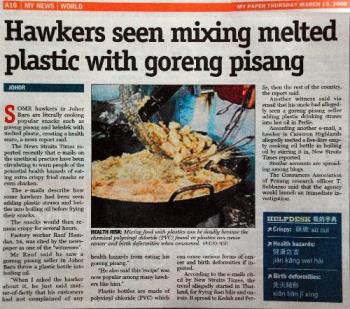 Hi Lordwarwizard...it sure does! I sure hope the people who bought these foods are okay. Cannot imagine getting sick eating foods that are intentionally poisoned by the hawkers just to earn a few extra buck!The things people would do to make a few cents extra! I have started a thread here with the news article -- http://www.mylot.com/w/discussions/1450478.aspx?p=0