Any Miniature Schnauzer lovers out there?!!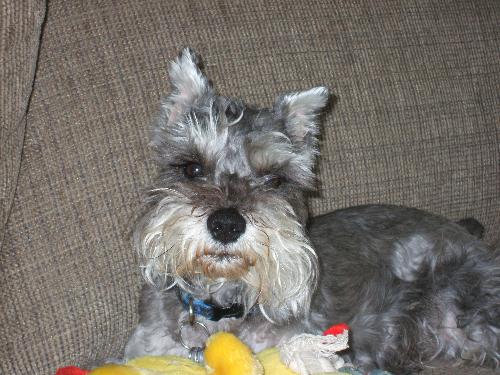 United States
March 12, 2008 2:59pm CST
I have a 5 year old Miniature Schnauzer named Sunshine. He puts a smile on my face every single day. We had 2 miniature schnauzers while I was growing up. One lived until age 17 (I was 19 at the time we had to have her put to sleep). That was extremely difficult. My other schnauzer had to be put to sleep at age 9 due to epileptic seizures that we couldn't get under control. I love schnauzers & I can't imagine life without having one. My sister has a white miniature schnauzer. It is really pretty, but I still prefer the salt & pepper. Who else has or has owned a miniature schnauzer? I love meeting other people who are schnauzer lovers too!
3 responses

• United States
12 Mar 08
I just love the breed my gradparents always had one while I was growing up and now that I'm a dog groomer I love them even more they are the easiest breed to do it takes 10 min. to clip then bath and blow dry and then 10 min. for the next clip. luv um luv um.

• United States
13 Mar 08
Oh heidibur - Too bad you're in Texas as I would bring my schnauzer to you for a wash & cut when he needs it! I usually take him to PetSmart as they are very convenient plus I can pick up supplies while I'm there too. We have a calico cat too named Shady. Do you have your own grooming salon or do you work for someone else?

• United States
15 Mar 08
I used to work for a vet anddid grooming there and then we moved to TX. and I was board so I started grooming from home I am the only groomer for 30 miles and now I am looking to expand and train someone to help me. my bussiness has tripled in the last year. I see you are from CA. I was born and raised there. San Fernando Vally and then Palmdale.

• United States
11 Apr 08
my best friend in my elementary years had a miniature schnauzer, I thought he was the cutest thing! you do not see too many of them any more, or at least I don't. I love the name you have given your little fellow... you can't help but smile--- just by the name.

• United States
11 Apr 08
Hi Modestah - I'm glad you like my little guy's name (Sunshine). He is 5 years old and when we bought him I asked my son as we were paying for him what should we name him... he immediately said "Sunshine". It is funny though because we adopted our cat just over 3 years ago and I do not believe in changing a pet's name so it was a given that we would keep the cats name. Unbenounced to us the cat's name was "Shady"! So, now we have "Sunshine & Shady"! :) I think there is a picture of both of them together on my myLot page. Hope you have a wonderful day Modestah! ~ Jill (koalatbs)

•
4 Oct 08
hello everyone well my husband got me a Miniature Schnauzer for our 3 month anniversary and he is adorable and well i have only had him for a month but he is very different from what i been reading , i mean he is really smart and loving but when he hears the doorbell he runs and get very excited he will go to anyone and be very friendly he only barks when we are in bed to let us know that he wants to be with us or when we are in the couch...he also has a very high-temper and is very stubborn sometimes he can be a little aggressive (when we are playing he starts biting and growling but that's just when he gets to exited) we think that it might be because he is 10 weeks old and he is still to small but i don't know i am confused can anybody tell me if this is normal, was it the same when your Miniature Schnauzer was a puppy? PLEASE HELP ME....thanks