Have You Ever Met Someone With Two Different Color Eyes?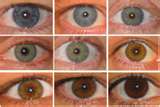 United States
March 13, 2008 9:44pm CST
When we were living in Texas, my husband was in the army stationed at Ft. Hood, he came home one day and told me he had met a guy that had one brown eye and one blue eye. I thought he was pulling my leg and didn't believe him. He's likes to pull me a good one every now and then and this is one time where I didn't believe him and he swore up and down that there was a guy like that and he wants me to meet him. Eventually I did and I couldn't take my eyes off of his!! He actually had one brown eye and one blue eye!! I was so shocked!! Now how in the world does that happen? Normally we're born with two eyes of the same color but not this guy!! I told him it was a heck of a conversation piece that's for sure and he agreed! I felt kind of sorry for him because I'm sure he gets a lot of stares from it. I thought it was pretty cool! So have you ever met someone with two different eye colors?
6 responses

• Murfreesboro, Tennessee
14 Mar 08
There's a customer of mine at the bank who has two different colored eyes. He plays it up by being all punkish, and it works for him, to the point that at first I thought it was a contact. It wasn't until after talking to several other people that knew him (including professors) before I was convinced it was his real eye. It was especially weird because he's mostly Asian, and looks Asian, but has this one light blue eye!

• United States
14 Mar 08
Asian? Get out! Now that really depends the mystery, does'nt it? I'd love to know how or why that happens. I really thought my husband was pulling the hell out of my leg when he came home and told me about it. I blew him off with a "yeah right babe" attitude but he was so adamant about it being true but I still wouldn't believe him til he introduced us then I was left without words. lol

• Murfreesboro, Tennessee
14 Mar 08
Yeah, I know, it's weird! He does have a couple of other features that could point to mixed heritage, but overall he looks Asian. I do know there's an actual name for the condition of having two different eye colors: heterochromia. There are some famous people who are reputed to have it, actually.

• Pakistan
25 May 10
yeah I know a person, his 2 child have 2 different color of eyes, one green and one blue... and it is also amazing because both colors are really rare in Pakistan.

• United States
26 May 10
I can imagine that it would be a conversation piece. lol Did you see the response above yours on here? There's two in her family!


• Holiday, Florida
24 May 10

hey i wish id seen this sooner. most certainly have. i had 2 cousins, both girls by the same uncle,from 2 sets of twins he had. one set had a blue eyed boy and a one blue one brown eyed girl. him and his wife had 14 kids

and a few kids later, they had a set of girl twins with one blue eyed and one girl with again, one blue one brown. it was amazing and a lot of talk in our family. now they have contacts though to help that.


• United States
26 May 10
Whoa! Two in
ONE
family?

What are the odds of
THAT
happening?! That's incredible!! You should report that to the genius world records! I bet they don't have that in the book!

• United States
24 Apr 10
most of my family has two colors in both their eyes. Mine are really bright green, like olive maybe and a dark grey, maybe blue. It is called centeral heterochromia. Some people have one eye color different than the other, this is called complete heterochromia. Any eye that has more than one eye color is called partial heterochromia, even mine.

• United States
26 May 10
I find it really cool and interesting and wonder how or why it happens. Most of us have one color for both of our eyes and to see one like you with two different colors is just amazing. I bet it's a heck of a conversation starter! lol I even question why my dad's eye color was the predominate one over my mothers dark brown eyes because all three of us kids have blue eyes. I was told brown is the most predominate color....?? Apparently, it isn't.

• United States
14 Mar 08
I have never met anyone with two different color eyes. It would be rather strange for me too so I think I'd probably end up doing a lot of staring if I had saw him too. It's just one of those strange things that happen that people are naturally curious about.

• United States
14 Mar 08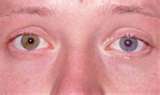 The responder above you said there's a name for this and it's called heterochromia. Now I know where to find the picture! LOL It was a shocker that's for sure. I didn't believe hubby at first but after seeing it for myself, well seeing is believing! lol

• China
14 Mar 08
Oh, that's very interesting and fancy, I have never seen such person, I would take a photo with him/her if I saw. perhaps, the person had a OPS. or other encounter, thank you for sharing this news.

• United States
14 Mar 08
It seems that one other person has seen people with this. It was my first and it was quite a shocker. I wish I had taken a picture but because I was so shocked, I didn't think to. arg! lol It makes me wonder what they put on their drivers license. lol