Do You Use Scatter Rugs In Your Home?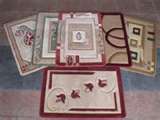 United States
March 15, 2008 12:37am CST
I have quite a few in my house. One at the front door, one in the hallway, one at the kitchen sink, two in the mud room, three in one bathroom and four in the master bathroom. I love having them there to step on for it's much easier on my back than the hard floor. I wash them once every two weeks and hang them up to dry. I don't use the dryer because of the slip resistant backing because the dryer dries it out and it peels off. They last much longer if hung out to dry. I have a wet clothes rack and use that on a rainy day. So do you have scatter rugs in your home?
3 responses

• Turkmenistan
16 Mar 08
I only have them in my bathroom for after a shower because I have no choice. I use to love them, now I do not care much for them. When I was working as a caregiver the lady had one down in her bathroom. Most of the slip resistant backing was gone and me being accident prone, I slipped on it, not once, but twice, on the same knee in the same hour. Now I have tendonitis in both knees from falling too much. This is why I steer clear of those rugs.

• United States
16 Mar 08
Ouch Rozie! I'd have thrown that thing out the first time and gotten a new one. That's pretty dangerous to have a rug like that around. My mother had a few in which I've slipped but caught myself and that darn rug went flying across the room and I told her that it had to go and I'd get her a new one because that one was just too darned dangerous.

• United States
15 Mar 08
In my last house we had hardwood floors so I had alot of rugs like that too. I would wash mine and hang them on the line to dry. Now in this house we have carpet so I only have the rugs in my kitchen and bathroom. Your right the dryer is hard on them.

• United States
15 Mar 08
Terry! You have a clothes line too?! COOL!!

lol I thought those things were becoming obsolete anymore. I'm glad I'm not the only one who still hangs clothes out to dry! Hey, it saves money not using the dryer. The dryer uses twice as much energy than anything else so yeah it saves quite a bit.

• United States
15 Mar 08
Naw.. I prefer a stable single rug that is unmoveable.. I get kind of annoyed by unstable objects...

• United States
15 Mar 08
LOL That is a scatter rug hon. What ever you do when you wash it, don't put it in the dryer because it will dry out the nonslip stuff on the back. It'll last much longer if you don't put it in the dryer.