How Often Do You Clean Your House?

United States
March 15, 2008 12:48am CST
I clean mine really good every two weeks. I have a list of things I do to be sure I get it all done. I love a clean house! I'll clean my kitchen from top to bottom, change the animal's bowls for clean ones, clean all three bathrooms, dust, change the sheets, laundry and rugs, vacuum and scrub, sweep the porches and give my three dogs a bath. I did all of this today and I'm so dogged tired and my body just aches all over. Lupus is the reason my body aches but gosh, I can't stand a dirty house! lol Now inbetween times of cleaning, I'll touch things up so they won't be so dirty and icky when I do do my regular cleaning. Once a month I'll clean fans and change the A/C filters, check the oil in both car and truck and of course during the summer months we check the lawn mowers, put rid-x in the toilet - we live in the country, all cats and dogs get their frontline and heartworm prevention. Yes I have a list made up of all of this, otherwise I'd forget and I surely don't want to do that! lol So how often do you clean your house? What do you do to clean?
6 responses

• United States
15 Mar 08
Wow you got be beat. I do things as needed. I do try to keep up with things. I have a lived in house, sure I wish it was spotless but I think there are lots more important things then always having a clean house. my house is presentable, mostly hehe. You are probably thinking "she probably lives like a pig" no not quite. Maybe its because I clean houses for money and when I get home I don't want to do my own. I do know how to clean though.

• United States
15 Mar 08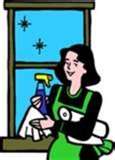 lol I'm sure your house looks just fine. But heck, I can understand why you don't clean as often, I wouldn't want to either if I did it for a living. It's just like when I worked at a fast food resturant, even though I was hungry, I didn't want to eat because I worked around food all day long so it turned me off. So yeah I do understand. Besides, working is enough to make one tired.


• Regina, Saskatchewan
15 Mar 08
I'm housebound and I find that cleaning keeps me from going insane. I put on my favorite music as loud as the dial will go and I sing at the top of my lungs while I make my way around the house. I've only been reported to the cops once and wouldn't you know, it was a female police officer who responded. lol Her advice was to confine my cleaning to daylight hours. We spent the next hour trading cleaning secrets over coffee. lol

• United States
15 Mar 08
LOL That's hilarious!! Thanks for sharing your story! I don't clean that often or I'd not have anything else done that I would like to do. Twice a month is enough for me.

• Regina, Saskatchewan
15 Mar 08
They say love makes the world go round, but who really loves housework? lol So music is my *love* and it sure makes the housework alot more fun. Of course being anal retentive about the condition of my house helps a lot too! LOL

• Philippines
15 Mar 08
As much as possible, we sweep and wipe dusts and dirts everyday. So they won't get stuck on floors, where they would be then hard for us to remove. On weekends, especially during Sunday mornings, we as a family do a general cleaning. We do our best to clean all corners, those dirts under the couches and sofas, and also our own rooms. We also organize stuffs that we think are not that useful anymore, place them on storage rooms for a while. And as for the toilet, we always clean it and disinfect to eliminate the germs and microbes..

• United States
15 Mar 08
Wow. You must have one heck of a clean house! I couldn't clean every day or I wouldn't have a life of my own. lol I clean once every two weeks which is on Thursday and Friday, and the weeks that I don't thorouly clean I do touch up with all three bathrooms including changing the towels and the kitchen and the towels and dish rag and the animals bowls always get changed.

•
15 Mar 08
I try to do it once a week, on a saturday. I get up early, well I am up early anyway as my children seem to think days off school mean that they should get up earlier than when they go to school. Anyway I start downstairs and work my way up, I clean, polish, mop, change beds and hoover under the settee and that too. I really did not feel like it today and so I put the children in charge of some extra jobs to earn some extra money so that helped a bit. It takes me a good four hours to get the whole lot done, but if I get it done then I get sunday to rest a bit. I was really upset today though, I spent the four hours cleaning and I had hoovered all the chairs downstairs and underneath them and while I had gone upstairs the kids had some crisps, well when I came back downstairs they had tipped all the crisps all over the place, and they were everywhere. It really upset me, and it upset me to the point that I actually cried, which believe me does not happen very often. So I went mad at them and I made them clean it all up, I cant believe they did that. Well anyway its done now, well for another week anyway!

• United States
15 Mar 08
I'd be really upset too because that's inconsiderate of them to mess up what you've just cleaned. I'm glad you made them clean it up. They need to learn to respect you and all that you do. Some day they'll realize all that you do for them and thank you for it.

• United States
15 Mar 08
Hi CatsandDogs I didnt know you had Lupus. I can just imagine how your hurting my friend. Well I clean once a week I too love a clean house. I even give my two cats Maggie and Molly a bath.LOL Ive been doing that since they were kittens. So they are use to it. Wow you have three bathrooms? And you did that all in one day? Hope you not hurting anymore.Hugs!

• United States
15 Mar 08
Hi Terry yes I have lupus and was hurting something terrible last night and am still today. I wanted to go outside and get the wood together to burn but for the life of me, I just couldn't do it. Now it's raining so it's just as well. Yeah, got three bathrooms and I did all the cleaning yesterday and I'm paying for it. I usually do it in two days but I went to my moms on Thursday to help her with her computer and hubby went with me to fix her bird bath that kept getting knocked over by the wind and he got a phone call about his mom and we had to rush home so he could go be with her and frankly I was too tired to worry about getting anything done so I did in all yesterday. I don't think I'll do that again. I pay for it that night and the next day. Thanks for the hugs!! Hugs back to you!!


• United States
15 Mar 08
LOL I'll pass, thank you!! I'll have my mother's house to clean before too long for she's getting up in age and is getting a wee bit slower these days. It's hard enough keeping mine clean with 14 fur babies and doing a little bit of mylotting and cross stitching too.