Wish you all a great weekend....

India
March 15, 2008 3:52am CST
I am very happy. My sister has come after one long year and we are going to have a blast, I am sure. My niece is a darling and we are going to have a blast. Planning to spend the whole night awake doing our not-so-girly stuffs since my bro-in-law and the kid would be around. Nevertheless, I am sure we would spend it in a great way. Hoping to watch some real fun movies and have lots and lots of junkies. I do not mind putting on a few lbs.

Would want to make the best out of a day for they will be leaving next week and it would be again a long wait before we actually get to meet.

You all have a blast this weekend.

11 responses


• India
18 Mar 08
Yes, Bala nothing like spending time with people we love and I did have a blast the past few days. Hope you had a great weekend as well.


• Australia
20 Mar 08
Hope you had a good time. sounds like a great weekend to be had!

• India
26 Mar 08
Yes I did have a very good time. How are you doing hun??

• Australia
5 Apr 08
Growing bigger every day and trying not to break the floor weight loading! lol. Apart from the flu, we are all happy little monkeys, emphasis on monkeys!

• India
7 Apr 08
great to hear about the happy monkeys. I am sure jumping and frolicking would help reduce you. Lots of love an hugs to you all.



• India
18 Mar 08
Yes I did, hun. It's nothing short of heaven when I am with my nieces and nephew.


• India
2 Aug 08
And mimpi.. today is saturday, the second August.. is going to be a good week end for you again.. Just a wish from me..as no soothsayer i am..


• India
4 Aug 08
Sorry for missing this one! I justhope you had a great weekend. Mine was an ordinary one. Thanks.


•
18 Mar 08
Hi Mimpi sweetie, so sorry I didn't spot this discussion before now but hey you've had your weekend with your sis and I hope you had the best time ever and have some lovely memories of the weekend. Enjoy every minute you can with them as it's over all too soon! When I visit my relatives in India, especially my mashi, I feel so sad to leave them as it seems the time goes so quickly! I hope we don't see much of you here on mylot whilst your sister is visiting. Don't neglect her for us LOL! Enjoy. xx

• India
19 Mar 08
Hi sweetie, Me being a mashi, know that your mashi gets sadder than you. But then that's but life. One has to let go or cling to lovely things as and when required. My sister is leaving this Friday. We are all sad for it would be another long wait before we would get to meet. Even though we chat almost everyday things aren't the same. I will definitely miss on my niece who would grow big by the time I meet her again! When are you coming to India next?

• Delhi, India
17 Mar 08

By the time I went through your discussion, the weekend was already over. Hope you would have spent gala and great time with your sister and niece and would have fulfilled your wish of spending some quality time with your sister and niece. You wished for our happy weekend....instead of blast...I was blasted out....LOL!



• India
17 Mar 08
It is great to learn that you are falling into the company of your nearest and dearest. There is nothing greater than the happiness you derive when you meet your family members, particularly if they are coming (staying at) far off places. Have a wonderful time and all the best. Regards

• India
18 Mar 08
Thanks a lot Sada. I know you will understand it. You have a great time as well. I enjoyed a lot with my niece and family yesterday. Now that they are gone, feeling little down. But then that's but life.

• United States
16 Mar 08
So nice that you get to enjoy your sister's company. What does she think of your myLot friends? Have you signed her up yet so she can follow you around here after she has to go home? That would be a kick. Tell her "hi" from all of your myLot friends and I hope you all have lots and lots of fun!

• India
18 Mar 08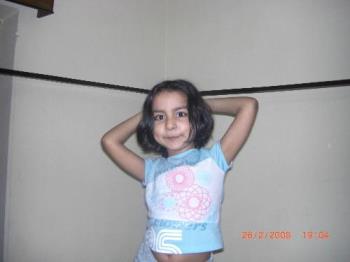 That's indeed sweet of you, hun. Yes, I will, definitely. She will be thrilled. She is not into this as yet, being busy with her kid. She hardly gets any time. Have a nice day.

• United States
15 Mar 08
Sounds like you r going to have a BLAST! Lol. I really love when I get back home from school, so I can see my whole family again. Its especially nice when long distant family members come to visit also. (I.E. In your case) Its really nothing like family. Nobody can replace and it seems as if u have a very closeness to them. Hope everything goes well this weekend for u.

• India
18 Mar 08
Could not agree more with you. In this age of fast living we are forgetting to live by our priorities and I am glad that I have realised it. Better late than never. I did have a blast on Sunday. Nothing like partying at home and that too with family! Have a nice day.