What is more useful to you in "myLot code"?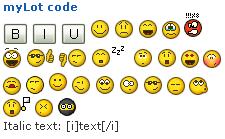 5 responses

• Australia
15 Mar 08
i think the emoticons are really cool but i hope it doesn't become like i have seen on some site where alot of people just reply with lols and


etc. I like the smileys they seem to make things more fun. What does ninja mean though?


• Philippines
18 Oct 15
@klaudyou
They are used as a simple expressions or feelings of the writer. Because you cannot display your smiling face in writing or else you will just say, I am smiling right now. It is too wordy rather than you could simply put it like this

So it goes right there, simple and economical.

• India
15 Mar 08
text formatting would be better. to give some attention and also to highlight some important points..otherwise how would be study in school??

• India
15 Mar 08
you are right .i fell like this is a chatroom since i reply back to them.


• Philippines
18 Oct 15
Both features are useful in your post here. Text formatting emphasizes the words or terms to be used. myLot Code expresses an emotion or feelings. Others call them as emoticons.


•
15 Mar 08
I only really use the emoticons, unless i want to make something really stand out from the rest, but i have seen emoticons and text formatting used about the same =]

Chris