It's Gonna Be One Of Those Days...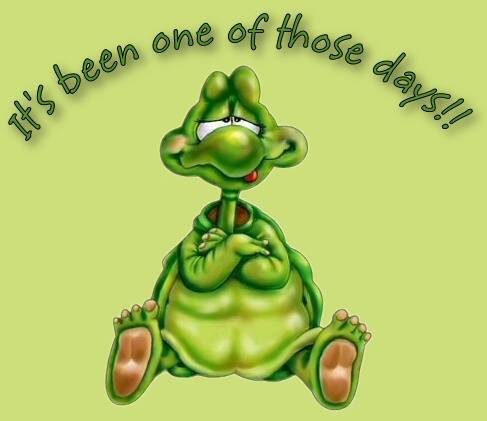 United States
March 15, 2008 12:06pm CST
Today is going to be ONE OF THOSE DAYS. I woke up and looking at the clock thought it said it was 730am. I got up, pulled the bedroom door shut so I wouldn't wake Hubby, went to the bathroom and then went in to turn on my pc. That's when I looked at the clock again and saw that it was actually 445am!! I didn't go to bed till like 130am so I definately needed more sleep. I shut off the pc, grabbed my blankey and headed to the bedroom...when I went to open the door I realized the door was locked. Somehow I'd hit the lock when I was pulling it shut. I didn't want to wake Hubby to get him to open the door so I just stayed up. Here it is noon and I've had a little over 3 hours sleep all night. I'm fixing Hubby some brunch and then I'm heading back to bed. I can just tell it's gonna be that kind of day. Have you ever had a day like that...where it just started out wrong from the get go? **AT PEACE WITHIN** ~~STAND STRONG IN YOUR BELIEFS~~
7 responses

• United States
16 Mar 08
Sometimes I really get myself into trouble like that, where I'll wake up in the middle of the night knowing I have to get up in a few hours, and then I try to read just a little until I can fall back to sleep. I promise myself I'll only read a few pages, but I get so involved that I don't want to put the book down. When I finally get back to sleep, I have to get right up again. Most of the time, I can take a nap during the day to catch up on my sleep, but sometimes things become really complicated, and I end up so busy that I don't have a chance to rest. That's a terrible feeling to be that tired and have to stay up and get things accomplished.

• United States
17 Mar 08
Yes, and it usually starts out like yours, with a bad lack of sleep. Fortunately, they are few and far between. But I feel your pain when I read this. The worst is when you only get three or four hours and have to go to work. That truly sucks.

• United States
16 Mar 08
Oh yeah I've had days like that, far too many actually. Sometimes it is best to go back to bed for a bit and hope that when you get up the day will be far better. Usually if it's that bad I figure it can't get much worse so why not try it? Hopefully the rest of your day did go better after a bit of a nap.

•
16 Mar 08
"HAVE YOU EVER HAD ONE OF THOSE KINDA DAYS?" I've had one of those kinda days before. You can always tell when you're having one 'cause everything happens just like it happens when you have one of those days...which is how you know you're having one of those days in the first place....I think.

• Australia
16 Mar 08
I hate it when I've misread the clock, especially if it's the other way and I think I'm late. That really starts the day on the wrong foot. You should have found a comfy couch to try to get a little more sleep! Hopefully you'll get caught up with your sleep and tomorrow starts a lot better!

• United States
15 Mar 08
Yes I have. I think we all have. I could use a nap myself. Hope you get some sleep. I may drag my kid into bed early. No time for nap now. But early to bed sounds good.

• United States
14 Apr 08
I'm having one of those days today. Woke up at 4:30 this morning realizing I had forgotten to do something, so got up and took care of it. Woke up at my usual time, and I look like I haven't slept. Plus my stomach is acting up, and I get to go deal with clients all day today. Fun. Or not.