When is a good time to water the flowers?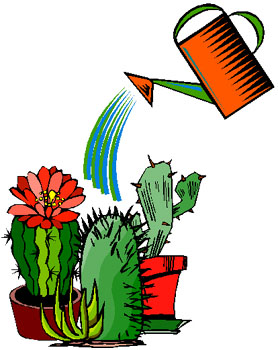 Turkey
6 responses

• New Zealand
17 Mar 08
Hi there... We have alot of gardens around our home and yard, usually when they need to be watered, we prefer to water them in the evening, so that the direct sun does not burn them, which can happen if watered during the day or when the hot suns out... Have a great day...

• United States
15 Mar 08
In the morning before it gets hot is the best time to water. In the summertime, it may be better to water in early morning (around 5am.) If you do it too late in the day, the water will evaporate. If you do it and it's really hot, the plants could boil and wilt. If you do it in the evening or night, you run the risk of making mold form on your plants, or in the wintertime, may subject your plants to freezing. Happy gardening!

• United States
15 Mar 08
I usually water mine in the morning around 7AM. This keeps the flowers fresh and it gives them a boost in the morning. Every now and then you can sprinkle them very lightly with water to cool them off a bit. This has stretched the longevity of most of my flowers. So the morning is a great time to water them. If you water them at night they will die faster, at least from my experience this has happend.

• United States
15 Mar 08
I've always heard that the best time to water your plants is in the early morning (between 6 and 9 am). This is how I have done it forever. I've heard that you should not water at night, because of the water getting so cold and causing the plants to go into shock. You should not water in the heat of the day, because the heat of the midday sun causes the water to evaporate too quickly and the plants do not get the water that they need.

• Philippines
1 Apr 08
I heard that every morning before the sun came out, and during sunset is the best time to water the plants. and talking to them really helps.. some others says.

• Lubbock, Texas
11 May 08
You can water early in the morning before the sun gets too hot, or you can water in the evening. If you water in the evening do it early enough that the top of the soil and any leaves that might have gotten wet will have time to dry to prevent mildew, but late enough that the hot sun doesn't blister your plants if they get water on their leaves.