Do you ever celebrate St Patrick's Day?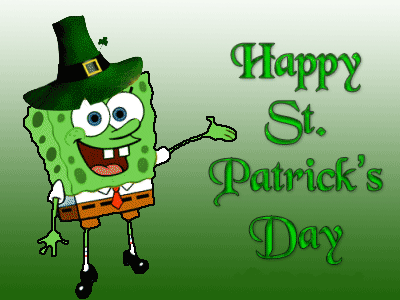 Canada
March 17, 2008 11:34am CST
Happy St Patrick's Day! It's March 17th today, and I'm staying home! Woohoo!!! I realized today, that I have only ever ONCE gone out to celebrate St. Patrick's Day. And I'm now 35 years old. I'm also of predominantly Irish heritage. What's wrong with me? (do NOT answer that Myrrdin! lol!). Years ago, before kids, I went out to my regular pub in Toronto for St. Patrick's Day. It was called "The Black Sheep", and it was packed! I don't care much for crowds, but I got there with my brother early enough so we could get a table. They had some irish dancers come in, but there wasn't much point. No one could see their footwork because there was no stage, and it was so crowded. I refused to drink "green beer" that night, and still won't do it. I love beer on tap, don't get me wrong, but green beer on tap? I think I'll pass. Yes, I know it's only food colouring, but I don't feel it belongs in beer. Do you ever celebrate St. Patrick's Day? Have you hosted a party? Have you attended a party? Do you drink only Guiness? Do you drink green Guiness? Do you go to a local pub? Do you wear green? Do you stay at home and wonder what all the fuss is about? Have you ever caught a leprechaun?
4 responses

• United States
18 Mar 08
We always had a boiled dinner after I was married. My mother in law processed her own corned beef from brisket. We used to laugh about the Salt peter, used in the picling process. She kept this in the fridge till the next St. Patricks or for special days if company came. Boiled dinners are the best!

• Canada
18 Mar 08
The only boiled dinners I've had are boiled cottage rolls.. and I've always found them to be too salty for my liking. My dad would make them with potatoes and cabbage.

• United States
17 Mar 08
My husband is Irish, lol, so he goes out with the guys and tosses back a few Guiness'. That being said, I don't do anything. My mom used to make Corned beef and Cabbage, but I hate the stuff! No parties here. With five kids, the most I do is give them something green to wear. No leprechauns, though I wish I could catch one, I could use the gold! :O)

• Canada
17 Mar 08
I decorate my front door and living room window, but that's about it. Yeah, I wouldn't mind all that gold either. ;)

• Regina, Saskatchewan
18 Mar 08
I think the best St Paddy's Day party I ever went to was a wake. Only the Irish will find that appropriate! LOL Anyway, the body was layed out in an open coffin in the dining room of the house. It was surrounded by candles and the deceased best friends were taking turns keeping vigil. My grandfather had come off his shift and turned his book of prayer over to the next vigilent. The slightly drunk friend began to object a bit as Gramps began to close the door, when all of a sudden the *corpse* sat up and said "A pint if you please Mr. Shaunessey and make it Irish green me boyo!" Well the poor guy fainted and it was a narrow miss of burying two old Irish reprobates the next day. Gramps and friends had rigged the body as a joke - one which the deceased would have really enjoyed! - but for some reason the widow wasn't quite so merry about it. Quite a few Irish heads got knocked together than evening. LOL

• Canada
18 Mar 08
OMG!!! I think I would've fainted too... then once awake, would punch the crap outta the person who played a joke like that on me. Yet that sounds like something I would be willing to do to someone. Maybe the Irish just have a sick and twisted sense of humour over most others? My father passed away just this past November, and I have his ashes here in my home in a box. I cannot tell you how tempted I was to wrap them up and put them under the tree and tell the boys, "Guess what boys? Grampa's joining us for Christmas!"

I know my dad would've found that funny. I get a lot of my twisted humour from him. I'll be bringing "him" with us to my aunt's house once we have a memorial bbq of sorts. I know he's appreciate that as well. ("Hey Karen, what's that you have in the box there?"... "Oh, not much. Just uncle Charlie.").

• Regina, Saskatchewan
18 Mar 08
LOL - Yes, yes, and yes, and you and I are going to get along just fine! LOL


• United States
18 Mar 08
I don't really celebrate St. Patrick's day. Sure, I'll eat the Shamrock cookies, green bagels, and mint milkshakes, but other than that, I don't pay much attention to it. From what I've seen of my family history there is pretty much no Irish in our family except by marriage to a distant cousin.

• Canada
18 Mar 08
But EVERYONE is Irish on St. Patrick's Day... so you don't have anything to worry about. LMAO! :D