Have You Ever Been To A True Paradise and Wanted To Stay Forever?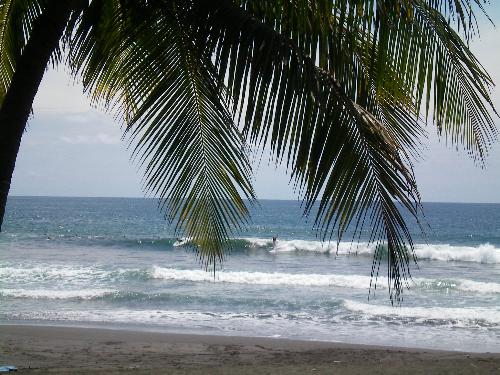 United States
March 17, 2008 7:22pm CST
Jaco, Costa Rica, on the Pacific Coast, is a true paradise. It is no wonder they call it a surfer's mecca. The waves on some days were two stories tall, forming perfect tubes. On other days even a beginner had a chance. You can be served drinks, sunbathing on the beach in a National Park, being constantly enertained by the incredible surfers. The locals, called Tico's are HOT!!!, beautiful to look at, deeply tanned and friendly. The food is fresh, fish caught that day, eggs just hatched that morning, fruit allowed to ripen on the vine, great spices and it all comes from the local small farms. Even the fast food restaurants taste better, they get their food from the same places. The trip up the coast to Manuel Antonio is picturesque as you go up high over the beach, wonderful for pictures. There is a restaurant there that is made out of an airplane relic from the Iran-Contra Affair, called El Avion, the food is fabulous, and the view to the sea, makes a great place to hang out. There is a market there, where they hang thousands of sarongs, flowing in the breeze, it is colorful and very inexpensive. The main thing that I fell in love with, is how they live in the moment, laid back, real values with simple every day life being important. It is an enchanting, charming, spiritual feeling place, that I really miss, want to go back to often and wish I could live there. It is not very expensive to fly to or stay for awhile. So, have you had an experience like this and felt like you were in paradise and tell me why you felt like that.
3 responses

• Indonesia
18 Mar 08
You are lucky that you have been at Costa Rica :D I fall in love with Bali and i would like to stay here.

• United States
19 Mar 08
Thanks so much for the response, if I were in Bali I am sure I would want to stay there too. I have heard it is a magical place. Can you tell me why you want to stay there?

• Indonesia
20 Mar 08
The beach is beautiful. I love to sit in the sand and watch the sunset, seeing people surfing from a far, how grace the wave like moms lace. Rare and cute bird wakes me up every morning. Frangipani flowers is every where! :D

• United States
20 Mar 08
That sounds so beautiful. I live on the beach in Clearwater, FL, and it is very pretty, but it isn't peaceful. That is why I fell in love with Costa Rica, people really appreciated the simple things in life. Here it is just a race to get the next better, more, toys, to make more money. I really connected to living in the NOW, the simple easy way of living. I am sure Bali has the same feeling. Are you there now?


• United Kingdom
24 Mar 08
I really love to travel. If I went to Costa Rica I think that I would feel like I had arrived in paradise. The Pacific Ocean is really beautiful and the beach resorts sound relaxing places to hang out. I know that I would adore it in the Manual Antonio National Park. There I would like to see the pristine beaches, the pretty trees and plants and the wildlife. I would enjoy feasting on tropical fruits and snapping up some bargains in the fantastic local market. I am leaning Spanish and would really like to visit Central America again. So far I have been to Mexico, Belize and Guatemala. Paradise for me is Samoa in the South Pacific. Wow! I loved seeing the white sand beaches, waving palm trees and calm blue ocean. I walked in the rain forest seeing fruit bats and a Polynesian mound. I have been shown a blow hole. I bathed in a cool waterfall. The prices there were reasonable. I also loved the Seychelles in the Indian Ocean but is an expensive place to go to. It has some of the most beautiful beaches in the world. Wow!

• United States
24 Mar 08
I have been all over Mexico and I am a diver and a surfer so I have been to Belize and all the great Carribean dive spots. Never have gone to Samoa, it sounds incredible, so thanks for sharing. I am planning a trip to Cambodia next year to visit some European friends that live there now, we will take a boat trip up a river. I may check out how close Samoa is to there and stop by on the way. I live on the beach, grew up on a different beach, but am definitely into the islands and beaches.

• United States
27 Mar 08
Well thats the thing about paradise....its paradise because your on vacation.....I have been to Puerto Rico a few times...then we decided to live there.....suddenly when reality sets into paradise paradise becomes any other place with bills to pay and things to fix...lol....I like Puerto Rico much better when we go there on vacation.....thats the only exciting place i have been....but I always wanted to go to fiji...and ireland. Maybe someday!