Just Wondering About Catnip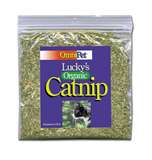 United States
March 17, 2008 10:24pm CST
Just a hypothetical question or curiosity that is getting the best of me. I wonder what catnip really is. I'm sure NOW you know where I'm going with this. Now really, is it dope or do you not think so? I often wondered if police came and raided my home and found the catnip bag on top of my curio cabinet, what would they think it was? It scares me a lot but I do think about it every now and then. I know it's a plant grown but so is dope. So how is one to tell the difference? I sure as heck don't want to get into trouble with the law! lol But yet, it's a natural plant that cats love and go crazy over.
10 responses

• United States
18 Mar 08
As others here have related the catnip plant/herb is related to the mint family..that's why sometimes when a human drinks mint tea (which I do before bedtime) is good to help one sleep...There is a difference in how actual catnip and pot plants look and smell, so no worries there about being busted for possession of catnip...uh, if you were arrested and the cops analyzed just think how embarrasses the cops would be to realize they busted you for possession of catnip...mmmm...come to think of it if they did you could probably sue them big time


• United States
18 Mar 08
In that case, I'm calling the cops!! I want to sue them for money!! LMBO!! Hey! I need the money!! No really, I'm kidding. But yeah I would sue their socks off if they raided my house and found nothing because there is NOTHING of that sort here. lol

• United States
18 Mar 08
Oh, that would be hysterical..Hey think of the publicity you'd get too and make those cops feel like a-holes even more


• United States
18 Mar 08
..the law could test it and know it's not an illegal plant.. I think cops looking at it, and handling it would likely know too.. Especially as it smells very minty..

• United States
18 Mar 08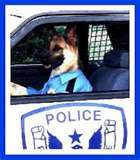 I was thinking of the stuff that you buy at the store and it's all chopped up. Not the plant itself. I figured they would have their little tests with them to test it out and probably get a good laugh.

• United States
19 Mar 08
I get lots of catnip around my house.. I should pick it, hang it upside down to dry, then chop it up for tea..! Maybe I'll just do that this fall.. my favorite is red clover, but I never seem to get that picked either!

• Omagh, Northern Ireland
18 Mar 08
It's some relation to mint,I think..I wondered how it is that it seems to affect mostly adult cats..I'd had some for my cat since he was a Kitten,but it didn't do anything while he was Young..more recently,I found him having got at a bag and was clawing it to get at it :) It doesn't make him go crazy,just perks him up and makes him purr big ..

• United States
18 Mar 08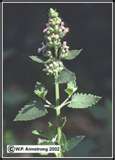 I've noticed over the years and many cats that I've had or been around that it takes the males to reach age 6 months to appreciate catnip and the females it can take up to 1 1/2 years before they do and boy when they do, mine go nuts over it! It's really funny to watch them for they get all crazy and nutty and run all throughout the house. lol However I do have one or two that didn't to it at all which is normal too. By the way, I have 9 cats now.:)

• United States
18 Mar 08
..they also take a nice long nap don't they afterwards.. it makes them sleepy, as a matter of fact, I've smoked some before when I was having insomnia and yes, I went right to sleep, a tea from it would work too, but I was in a hurry..

• United States
18 Mar 08
I think it is an herb related to the mint family - don't think I would smoke it, but it sure gives the cats a buzz doesn't it? I have seen it at seed shops but have never planted it myself. I wonder if we can use it as a flavoring for tea or something, surely there must be a better name to call it if we do.

• United States
18 Mar 08
Yeah that's what I've read but it sure did have me wondering because of the affect it has on cats so why wouldn't it be for humans. lol As for the tea, your guess is as good as mine for I haven't a clue but a good question nontheless.

•
18 Mar 08
Catnip is a plant related to the mint family, and its official name is Nepeta Cataria. Strangely enough, only about fifty per cent of cats like catnip... the other fifty per cent hate it. Apparently, this is all down to genetics. An interesting point is that of the big cats, most lions, leopards and pumas react to catnip, but tigers don't. The enticing aroma of the catnip oil triggers certain nerves within both the big cat's and the domestic cat's brain. Some roll and rub on the catnip, purring loudly as they do so, whilst others will wallow in it, eating it and exhibiting a drunken behavior for up to fifteen minutes. After this 'high' period, most cats will sleep, or remain overly calm for several hours. Catnip is a herb, and doesn't create any unpleasant after effects, at all. Brightest Blessings.

• United States
19 Mar 08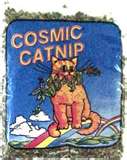 Thanks Darkwing, that is very intersting. My day wasn't a total loss after all because I learned something new! I know my cats love the stuff or most of them do so I keep it around when I need it. lol

• United States
18 Mar 08
I think it's an herb in the mint family and it seems to have no effect on humans. But it definitely gets my cats stoned and they love it. I love watchng them on it. Just like humans, they get stoned in different ways, one gets playful, one gets mellow and the third one gets snippy. (Bet he'd be a nasty drunk. We had some problems getting one of the cats in the cage to go to the vet recently and asked the doctor if it would be okay to give the little guy some catnip ahead of time to mellow him out but the vet said no. Appparently it's not a good idea to give an animal catnip before they get shots so I guess it has quite a strong physical effect on them.

• United States
19 Mar 08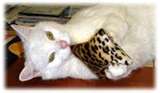 That's a new one, I wonder why you couldn't give him catnip? I'll have to ask a vet on that myself because I'm really curious. My cats are the same way, some get mellow and some go crazy and run all through the house. They're so funny to watch.

• United States
19 Mar 08
I think he didn't want to give the cat shots while he was agitated or "high".

• United States
19 Mar 08
Oh, and did you ever get my reply to your private message? I typed one out thoroughly, but (remember, I'm stilll a wee bit of a dunce at new things to me on MyLot) the message folder doesn't show that I have replied back. I gave you my email address also. Hope so. Good night, friend.

• United States
19 Mar 08
I just answered your response above, check it out... and I PM'd you again because I didn't get yours...

• United States
19 Mar 08
When it grows, it actually looks like tall grass.. kind of like chives. It can also look like regular grass, just thicker. I think they would know the difference, the smell is certainly different! Catnip is easy to grow and dry too by the way.

• United States
19 Mar 08
Dry? I'm reading a lot about it having some type of oil substance on it and is what draws the cat to it. I'm going to get a plant one day and see how my cats take to it over the store bought bag kind. I wonder if they react differently so we'll see....

• United States
18 Mar 08
I personally do not give catnip to my cats. They are hyper enough without giving them something that will boost that hyperness. Lots of times I will come home from work and they are chasing each other. Two of them are adult cats and the other two are kittens.

• United States
18 Mar 08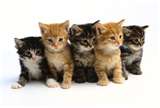 Oh I LOVE your avatar! Cool! I imagine your adult cats are relativly young in age to be still so playful but the kittens are normal. They're so silly and full of mischief when their so young.


• United States
18 Mar 08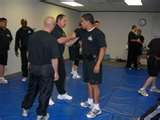 LMBO!! I love it!! But I was talking about the kind you buy at the store that's all chopped up into itty bitty little pieces but I'm so laughing at your answer! Thanks!