Corned Beef and Cabbage - Did you make it yesterday?

United States
March 18, 2008 9:18am CST
I did and my house still smells like it is cooking. I woke up last night because my youngest called me because she kicked her blanket off the top bunk. When I went into her room, I could smell it. Not what you want to smell 3 a.m.!!! It was good, don't get me wrong. I just need to get the smell out of the house.
7 responses

• United States
18 Mar 08
No I didn't cook corn beef and cabbage yesterday because there wouldn't be anyone but me here to eat it. I will have the kids home tonight so I'm fixing it this afternoon. I'm doing it in the crock pot. Since you reminded me about the smell I think I'll move it out side when I put the cabbage in later. ammonia or vinegar set in bowls around the house are supposed to help clear the air. They are supposed to absorb the odor according to Heloease

• United States
19 Mar 08
Hope you enjoyed your belated St. Paddy's Day meal. I usually only cook this once or twice a year. LOL I never thought about cooking it outside. Good idea.

• United States
18 Mar 08
Oh yes we had corned beef, cabbage, potatoes and carrots. Very good dinner over all in my opinion but I like to have that anyways. St. Patrick's Day is just a good excuse for it. Yeah some times the smell can linger but we have air neutralizers through out the house so it's not a problem. Of course we didn't really have any left overs either and the pans were all washed right away so that could also make a difference. If the dishes were left on the counter for a bit it could cause it to permeate the house more. I'm sure the odor will fade soon enough and it won't be a problem for you. I hope you enjoyed the meal though.

• United States
19 Mar 08
Bob and I did enjoy the meal. We had potatoes and carrots also. Wanted pumpernickel bread but the store was out of it. Go figure, me waiting until the last minute to get it. The odor faded yesterday. LOL

• United States
20 Mar 08
Well we didn't do the bread either but I'm not big on pumpernickel not that I would have had room for it anyways. I over ate as it was. Glad the smell faded for you.

•
18 Mar 08
No I did not do corned beef and cabbage, I could not eat that to be honest yuk! But I can well imagine that it would linger in the house for ages, if you get any visitors they will think you have all got bad tums!


• United States
19 Mar 08
I only eat the corned beef, I like cabbage but not prepared this way. The smell was gone yesterday. So it wasn't too bad. LOL

• United States
18 Mar 08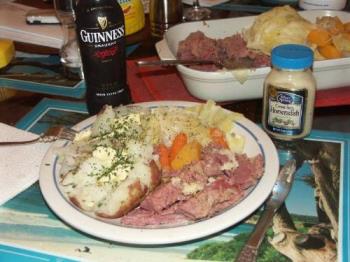 You know... I only had that as a little child... and there is no way I am having it again. I just can't handle it. and to have to smell it in my house the next day!!! NOPE!!! Glad you did enjoy it tho! LOL

• United States
18 Mar 08
Nope I didn't make it. lol I am the only one that would have eaten the cabbage, so no reason to get a cabbage and cook it just for me.

I know hubby likes the corned beef, but not the cabbage.

LOL now that is funny! I hate to smell it way after it is cooked. lol Just doesn't seem like something you want to stick around forever

Have a great day!

• United States
18 Mar 08
no, I didn't. I like cabbage but it is stinky... To neutralize odors, slice a lemon, place in a baking dish and place in a 200-degree oven for 20 minutes. Also, pour about one cup of vinegar and one cup of water into a pot and boil on stovetop until almost evaporated.

• United States
20 Mar 08
no I did not make it this year, though unless it lands on a friday that is what I have always made - new england style boiled dinner - I sure do love having a reuben on the following day. that smell does tend to linger doesn't it? we had golabki on sunday so no one was wanting corned beef and cabbage on monday - I made irish stew for the first time, the recipe called for guiness to be put in it. it was pretty good.