Out of the mouths of babes comes more than cereal....

Regina, Saskatchewan
March 18, 2008 11:54pm CST
There are a lot of parents here. For those of you who aren't parents, pretend. Out of the mouths of babes comes more than cereal. For example: A little girl was standing next to her daddy while he got his hair cut at the barbers. She was eating a snack cake while she watched and the barber told her she was going to get hair on her Twinkie. "I know, she said, and I'm gonna get boobies too". Needless to say, her daddy ended up with a brush cut. lol So what words of wisdom have come out of the mouths of your babes? Make it up if you have too, I'm bored, tired and cranky. I need a laugh.
11 responses

• United States
19 Mar 08
I'm not a babe, have no kids, just cats, and they don't speak in typeable terms, but I'll tell you a couple of jokes. One is a kid joke - it goes like this: Why wouldn't the skeleton cross the road? He didn't have the stomach for it. Ok, this one's not a kid joke, but I really like it, and it's gross too, so doubly good: What did the leper say to the hooker? Keep the tip. Smiling? Laughing? Regretting your friends request?

• Regina, Saskatchewan
19 Mar 08

• United States
19 Mar 08
I have just tried to send you no less than 3 PMs, but my IE keeps closing when I try to send them, so I'm going to give up on that till tomorrow, k? I'm too tired for that tonight, so that's why I'm coming back here with this - maybe I can actually send this one. Ha! doubt it. But I'm trying.

• Regina, Saskatchewan
19 Mar 08
And succeeding. There's always email. Telegraph. Telephone. Tella woman. LOL

• United States
19 Mar 08
Thats funny! Here's a couple of jokes, hope they can give you a chuckle or two! One summer evening during a violent thunderstorm a mother was tucking her small boy into bed. She was about to turn off the light when he asked with a tremor in his voice, "Mommy, will you sleep with me tonight?" The mother smiled and gave him a reassuring hug. "I can't, dear," she said. "I have to sleep in Daddy's room." A long silence was broken at last by his shaky little voice: "The big sissy." One day a guy was driving with his four-year-old daughter and beeped his car horn by mistake. She turned and looked at him for an explanation. He said, "I did that by accident." She replied, "I know that, Daddy." He replied, "How'd you know?" The girl said, "Because you didn't say 'JERK' afterwards!" I didn't know if my granddaughter had learned her colors yet, so I decided to test her. I would point out something and ask what color it was. She would tell me, and always she was correct. But it was fun for me, so I continued. At last she headed for the door, saying sagely, "Grandma, I think you should try to figure out some of these yourself!"


• Regina, Saskatchewan
19 Mar 08
LOL That reminds of the little boy who was always getting into mischief. In exasperation one day his mother asked him how he expected to get into heaven. After some thought he said "Well I'll just keep running in and out of Heaven's door slamming it until St. Peter says "For Heaven's sake Dylan, come in or stay out!". You just gotta love kid jokes! LOL

• United States
20 Mar 08
Oh my that is too funny. My 2nd to youngest daughter is now in pre k and she got picked on by the bully in her class he pull out one of her braids and she cried and told on him... Well the next day she comes home smiling and all happy and I asked if her day went well and if the bully left her alone .. She looks at me and says yep after I told on him for picking on me today I hit him in the balls. I almost doubled over and fell off the couch laughing. My daughter is learning all sorts of things in school and that is just one of them..

• Regina, Saskatchewan
20 Mar 08
LOL. You'd better buy reinforced jock straps for your boys! ROFL

• United States
21 Mar 08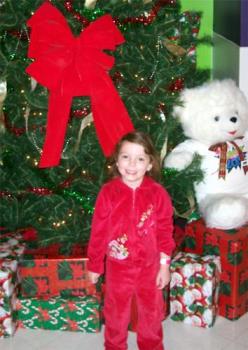 Tell me about it she already ball tagged my 8 yr old boy. That was to funny he was picking on her and boom it happened he almost fell down the stairs. This was right before school. the funny thing is she looks very innocent.

• Regina, Saskatchewan
21 Mar 08
Of course she did. lol She's discovered the power females have over males. She's a keeper! LOL But I'd keep my eye on her. lol


• United States
9 Aug 08
After my daughter's performance, my fiance and son headed outside for fresh air. While outide, Dad said to son, "Maybe we should pull the car around since your momma can't drive." My son looked up at him and said, "Mom can drive...she just can't back up or park." That little turd:)

• United States
9 Aug 08
Yes...sometimes too smart for his own good...lol

• Regina, Saskatchewan
9 Aug 08
They are the best kind really - the grow up into such interesting people! lol

• United States
7 Aug 08
Hi sparks, [i]hahahaha! What a confident and honest kid! LOL! Anyway, I have no kids but I heard last time from the youngest daughter of my friend who was fighting with her sister since she wants to borrow something and since her sister wont allow her, she was crying and asked her mom, "mom , when she will die?" we were laughing hard and she was just looking at us wondering our reactions! LOL![/i]




• Regina, Saskatchewan
8 Aug 08
When my two sons were really young (pre-school) I used to babysit infants. Their moms would pick them up about 6pm every day. The week I brought my youngest home from the hospital after he was born, my oldest would just stand and watch the others go home and then look at his brother. Finally at the end of the week after the last baby had left for the day, my oldest comes to me and says "Mom, when does HE start going home at 6 o'clock"? LOL Sibling rivalry starts practically at birth I think. lol

• United States
8 Aug 08
hahahahaha...That's funny! But for sure, this time they are very close now! Your story remind me of a story I watched on TV...The older brother asked her mom to put back the younger brother to her tummy! LOL!



• United States
7 Aug 08
It is not so much what my 4 year old son said as what he did. my husband was working on a farm and we lived there too. My husband was forever getting the tractor stuck in the mud somewhere and I would have to load up my boys and go help get him out of the mud. My son had a tricycle and he would be riding it on the side walk and ride off on the side. Then he would come get me and tell me he needed my help getting unstuck. I

love all the stories written here.

• Regina, Saskatchewan
8 Aug 08
Monkey see, monkey do! LOL Every little boy wants to be his dad at some point in his life. lol Let's hope yours grows up to be a better driver though! LOL

• Philippines
9 Aug 08
I have had many laughs with my kid but only the most recent I can recall. His hair was already long and I told him I would personally give him a haircut. He then asked me,"mama, are you good at it?" Of course so that we'll save the money we're going to pay the barber, I told him (but of course I was just kidding because I really don't know how to give a haircut). And his answer was, "Well then, try it on papa first so that I'll know if you really are good!"

• Regina, Saskatchewan
9 Aug 08
Now there's a boy that's going to go places. Lovely story kate, I love it. LOL

• United States
31 Mar 08
LOL!!! Oh My Gosh!! I have been laughing for about 3 minutes straight ;-) This was so funny! I'll have to think on it for a few to come up with some things my kids have said. This one really was a good one though!! Thanks for sharing it.

• United Kingdom
21 Mar 08
Spark you bored tired and cranky never lol Do you know I really can not remember what mine have come out with lol I mean they are 21 and 24 you know so it is a long time ago but it funny what Children come out with lol Actually the one thing I do remember very clearly is when my Son asked me if we could not send his Sister back to the shop where I bought one and get a better one because she had just messed up the House he had built with Lego that I will never forget lol

• Regina, Saskatchewan
21 Mar 08
LOL I love your story Gabs. My oldest tried to do something like that when he realized his younger brother didn't *go home* when all the other kids I babysat daily did. He was quite put out about it for a long time. LOL I love your new avatar too. Your name and Gissi's pic. How appropriate.

• Philippines
20 Mar 08
lmao...That is way too funny

..Well my kids don't say such things sorry..hehe but your discussion is funny. How can anybody call that a twinkie..lol

• Regina, Saskatchewan
20 Mar 08
Oh I'm sure you're kids say lots of funny things. I love listening to kids. They have such perfect logic. lol

• United States
20 Mar 08
Ok sure I have one, it is cute. my daughter when she was about 3, I ask her. "where did you get those big brown eyes?" Her replie was "from the Super Market" just as sweet and innocent as can be. It was so cute, I laughed.

• Regina, Saskatchewan
20 Mar 08
LOL, already a savvy shopper by three years old. Priceless!