Portable Heaters

Turkmenistan
March 19, 2008 12:07am CST
On Sunday night the portable heater in my room started giving off a funny smell. The regular heater is broken and the gas company says it is not fixable. So I have been using a portable since I have been here for the last three years. Anyway, the smell was like burning tar. It was really getting to me, but at the same time, it was pretty cold. So I did not want to turn it off. Finally, after about two hours of smeeling this stuff, I decided to unplug the hearter. When I attempted to pull the adapter from the wall, it sparked up big time and scared me good. The weird part though, was that the prongs were still in the outlet. Apparently, the adapter prongs had melted into the outlet. I was not going to touch them, so I called for a staff at this board and care to help me. She came down and saw it and then called her husband on her cell phone to see if it would be safe for her to remove the prongs. She removed them. The the next day, when I finally got the handyman to come and look at it, he found that the plug for the heater had melted into the adapter. He pried them apart. Then somehow he replaced the plug for the plug for the end of the cord. And now I do not need an adapter. I do not know how he did that. Nor do I know how much danger my roommate and I were in. She was asleep the entire time. All I know is that I think God that I nor the staff got shocked and that there was no electrical fire.
11 responses

• United States
19 Mar 08
Hi Rozie Im so glad you did what you did. Whenever you smell something like that that means its electrical. Im so glad your okay. Good jOb!

• United States
19 Mar 08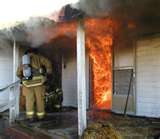 Let me tell you something Rozie. I've been there and done that but mine caught fire and darn near burned the camper to the ground. It was my third fire, I've been through five altogether. My exhusband and I were living in my brothers camper at my parents house because of my medical bills and needed to catch up on them. When I had gotten up, I had turned the heater off but didn't unplug it. I didn't see a need to when it's turned off. I had to go into town for something and forgot to get something so I went to the camper and opened the door and smoke come billowing out and I freaked out, my dad was outside and heard me scream and he jumped the fence to get the hose and mom called the fire department. What had happened was even though it was turned off, the cord got so hot it had set the trash can on fire and burnt it through the floor. My dad having a heart condition could've had another heart attack but that God he didn't. So please please from now on, if you hear something or smell something that doesn't seem right, please check it out for it could very well save your life. I pray that you have a smoke detector. If you don't then go to a fire station and ask if they have any free ones to give away, most do and will give you one. Please be very careful with those things, they're so very dangerous.

• Turkmenistan
19 Mar 08
Thank you so much for sharing your story. Now I feel like the full weight of this thing is starting to hit me. God had me to unplug that thing. I never knew until just now, why I unplugged it, instead of just turning it off. God has been good to me yet again.

• United States
19 Mar 08
Wow, how scary! I'm glad you got it checked out before it was too late. It doesn't sound like you had much time to spare. I hate electricity. I'm running a space heater too and I don't trust the things. I turn it off at night and just use the regular furnace, turned down low.

• United States
19 Mar 08
those space heaters really scare me - I will not use them! Every winter I see in the news people's lives destroyed because of them - houses on fire, kids burnt, people dying...I understand the need for people to stay warm, but I wish there was a safer alternative. thank goodness you all were okay!

• United States
19 Mar 08
I'm glad you're OK, too. I had a small heater that I used for years next to my bed. I didn't have a problem with it until one night I woke up and there was smoke pouring from it! Man, did that scare me or what?! Needless to say, I threw out that heater and bought a new one the next day. We have ceiling heat in my apartment and it's extremely expensive, so I never use it. Even when you turn the thermostats off, it is still on, running up the bill. Luckily, I live in a warmer climate, so I don't really need to heat up my place all that much.

• Turkmenistan
19 Mar 08
Oh my, I know that it had to be frightening to wake up to a fire. I did not know that central heating was very expensive. When you said, warmer climate, I knew that you must be in California. I live near the beach and that is what makes it so cold out here at times.

• United States
25 Mar 08
I live further inland, but it still gets cold and we have frost now and then. I think that gas heat is a lot cheaper than the electric ceiling heat that I have. It's a stupid invention and when I tell people about it, they don't believe it. My building was built in the 70s when electricity was a lot cheaper than gas. It does get warm, but it costs so much.

• United States
20 Mar 08
I cannot believe they expect you to heat with a portable heater. I would think that would be against the law. It was very dangerous and you are very lucky.

• United States
20 Mar 08
Wow that is scary, you are so lucky. You truely had Angels looking over you. I had a portable heater, and the plug melted too. I got lucky and had felt the plug, it was hot and starting to melt. I unplugged it just in time. Wow girl, just thinking about that gives me the willies. Thank God you weren't sleeping and it catching on fire or something.

• United States
19 Mar 08
Oh Rozie, how frightened you must have been. I can't imagine what I might have done if I had seen the prongs remaining in the outlet. Electrical appliances can cause fires in so very many ways. I am really bad about not unplugging them, just turning them off when I leave my home. My father often turns on a portable heater and now I am worried that something will happen to his heater. He turns it off before going to bed, but I don't know if he unplugs it. It is an electric heater than supposedly turns off if tipped over or overheats. It is good that one of you was awake, had you not been awake and the situation was allowed to continue, there could have been a fire.

• United States
19 Mar 08
Portotable heaters are dangerous. Especially kereosene or oil ones. I always use a surge strip with my electric portable heater to avoid this type of over heating of the outlet etc. Sometimes the smells are that of dust burning in them as well. Glad things worked out for the safety of all. HAPPY POSTINGS FROM GRANDPA BOB !!~

• United States
20 Mar 08
girl! you are so fortunate that you were awake and noticed the smell!!! that could have started a massive fire. it sounds like your adapter was not the right size ( voltage or amps or whatever it is measured by) for the appliance. sure glad you caught it in time!

• United States
20 Mar 08
Wow, it's a good thing everyone is ok and there was no fire. We had something similar happen here, a couple times in fact, and on different portable heaters. My father plugged one into the garage, because we have a pet cat in there and he didn't want him to freeze, and apparently that portable heater was just too strong for that particular outlet, so it ended up sparking and smoking, but we unplugged it. There is still some burnt markings on the outlet, and my father has to change it, but we no longer use the outlet. On another occasion, my dog chewed the cord off of my personal portable heater in my boyfriend and my room. It wasn't plugged in when she did it, so no, she didn't get electrocuted. While I was vacuuming, before removing that chewed up wire, I accidently ran the plastic hand wand attached to the vaccuum over the chewed part of the cord, and it blew a circuit in the house. I thought that was strange, since the wire was not plugged in, and all I did was basically suck the chewed cord into the hand piece of the vaccuum. There was no metal touching anything, so that was interesting.