My Brother did this to us!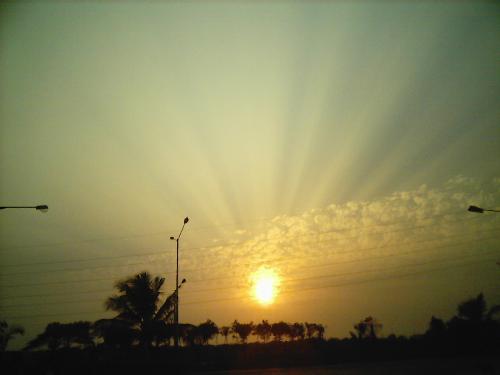 India
March 19, 2008 8:39am CST
Hi friends,,this is a very sensitive situation for me and my family.....I woudl like to share it wtih you,because I m very sad, and most of all broken. My brother was one of the best guys around until today. HE neva smoked, drank or did all the things guys do in their teens. But now he has made a new friend,Remo, who is about three years elder to him and this guy calls him out late in the night to go for a ride, then for a walk,n then sometimes in a pub. Now my brother neva till date had left house at aroung 12 midnight just to meet up with some friends. He one day went at around 12 in the night and came at 1.00in the afternoon the next day. My parents were awake the entire night, trying to reach him on his moblile phone. If we ask him where he was, he keeps telling us he is not a kid, that we need to know everything and that he can take care of himself and that we need not interfere. One day he stretched it too far.He left home on a Saturday, and came home on a Monday next week. I was saturated and when I intervened,,he hurled abuses at me,,,(some abuses were on my mom). I could not believe what I heard. Then he starts yelling the name of my ex-bf,,,whom I left 8 years ago.Now the thing is that my ex bf lives just opposite my house, and I live in a building where my neighbours live a few feet apart from us.. n since we were arguing at night,,they might have heard my ex-bf's name. I was so sad and heartbroken,,,becasue it was embarrassing to see my on brother whom i 'loved' so much,blackening my name in front of society so that they could hear me..People in my building know my ex bf, cause his family is very influential n the area,,,Also he is marreid now,,so imagine the embarrassment for him if he came to know about it! My brother tries to dominate the family and threatens to hit my dad if in case my dad intervenes....I do not know what to do,,,,He has been yelling my ex bf's name ever since I left him and has never stopped doing this whenever we had an argument over a petty matter.I have stopped talking to him since that day and dont share anything with him. I was about to leave the house and stay separately that day,but my momdid not allow me to take this step. I hate my brother now even more.I dunno what to do,,,friends,,,I pray that no sister gets a brother like mine,,,One who is meant to protect his sister and not demean and insult her!
1 response

• India
19 Mar 08
It is so sad that your brother has changed so drastically. It is clearly evident that his friend circle has brought about this change in him. If this continues, no doubt for a very long time this will happen. The same thing happened with one of our neighbours. First thing you shoul not do is provoke him, advice him or nag anything Keep telling him about the responsibilities in thehouse but never link those responsibilities to him. Responsbilities does bring great change to a man. Dont hate him. Although he is shouting t u, still be calm and love him. It is only matter of few months before he comes normal But if you ppl also shout and hate him, this reenforces his attitude and behavior. Ask for his suggestions in certain matters, dont appear to him that you are acting

• India
19 Mar 08
Thanks for your response! Well we tried telling him that Remo was not a good man,,,n also I have stopped speaknig to him,,but my mom speaks to him very sweetly,,,yet he takes advantage of this and does not listen to us!Lessee i may tell mom to talk to him again,,thanks