Childern and Toys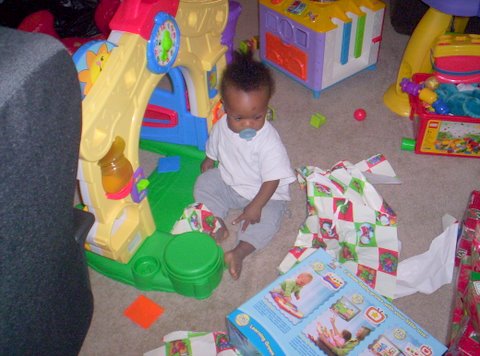 United States
March 19, 2008 8:39am CST
My children have lots of toys. Too many! I dont buy them toys year round. Maybe 3 times a year excluding Christmas and birthdays. I dont use toys a rewards. I will take them away if they misbehave in school or preschool. I think that my 16 month old has as many toys as his brothers. I believe that every child should have learning toys. My two oldest boys have lots of learning computers and my 16 month old has lots of toys from the fisher price laugh learn collection. Do your children have lots of toys? Do you think that they have too many or too little. Do you use toys as rewards?
3 responses

• United States
22 Mar 08
My daughter has way too many toys. I clear some out and I can't tell anything is missing. It's made worse by the fact that she's in daycare through the week, so the only times she's even home to play with them are weekends and a couple hours weekday evenings. But she has 4 sets of grandparents, 4 sets of great-grandparents, and lots of aunts and uncles, so even with me encouraging books and clothes for presents, she still gets tons. I do not use toys as rewards - I use books, trips to the ice cream shop, etc. - and we hardly buy her any toys for holidays. Her Easter basket is all food and a little plant she can grow, and for her birthday next month she's getting a bed, sheets, shoes and books. Don't get me wrong, I am very grateful for how fortunate we are - and when I weed toys, they go to kids who really need them - but I'd far rather people give her money for college! :)

• United States
22 Mar 08
I know the feeling. Its hard work cleaning out all those toys, then to find it still looks the same as it did before you cleaned them out. I actually gave away about 3 boxes of toys last year. I give them to the church and salvation Army. I havent cleared any of my 16 month olds toys out yet, hes just beginning. However I think he has just as many toys as his older brothers. I would prefer college money also. Thanks for your response!

•
19 Mar 08
I think that my children have far too many toys. Have started to clear them out about 5-6 times a year now as otherwise they just plie up and we run out of room for them. I tend to buy toys only for chirstmas and birthday but have now asked people to buy them clothes or books instead of toys. No i dont use them as a reward. But am the same will take away their favorite toys if they misbehave. I also prefer educational toys espically for my youngest who is 22 months.

• United States
19 Mar 08
I should start clearing out toys 5-6 times. I only do it around christmas. I also tell people to buy them clothes for their birthdays and christmas. They already have too many books. I acually just purchased some more books for my youngest...the hooked on phonics toddler edition. Well, thanks for your response.

• United States
19 Mar 08
Yes, my kids have WAY too many toys. I keep telling myself that I am going to clean them out and get rid of a bunch of them, but I don't. I am guilty of using toys as a reward for my 8 year old sometimes. That is a habit I do not want to get into with his 13 month old sister.