Has your nose ever started bleeding after you have just blown it?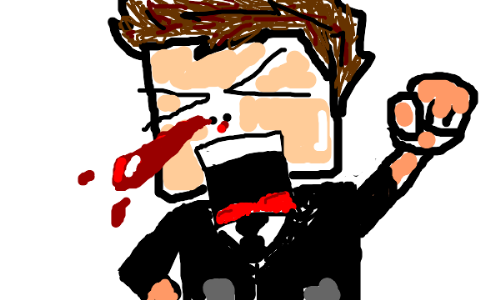 United States
March 19, 2008 9:54am CST
Mine just did this morning. I have been having allergy issues all week and when I went to blow my nose, there was blood in my tissue. It gave me a bit of a fright and I spent the next five minutes trying to get it to stop. It did eventually but wondered why that happened. Did I blow too hard? LOL Has that ever happened to you? Does it happen often or once in a blue moon? Thanks for sharing!

5 responses

• India
19 Mar 08
Hi, I have had nose bleeds previously. That too after I had a cold. When I consulted my doc, he replied that the flum have got dried up in the walls and when I blew the nose it had come off and it have brought out the skin too. And when a wound is forcibly rubbed it bleeds and this happens. So it is better to make sure that the flum is not got dried up in the nose.

• United States
19 Mar 08
Now that makes a lot of sense to me. Thanks for sharing.

• United States
19 Mar 08
My husband gets it on occasion. But he thinks he's got a weakened septum. I think for most people, it's a case of scabbing inside due to lots of blowing and/or dryness and then when the scab gets blown off/out you get a bleed.

• United States
19 Mar 08
You could be right there since I've been blowing my nose all week due to allergies and could have blown off the dryness and caused it to bleed.

• Philippines
19 Mar 08
I have also a similar experience like, there are many cases when that happens. It's either because of the humidity, the weather's too hot or a long exposure on heat of the sun then we experience nose-bleeding. It could also be because we have colds, too much blowing and pinching causes our nose to bleed as well. Don't worry, that only happen every
once in a blue moon
.

Just tilt your head up for some time, then the bleeding would stop..

• United States
19 Mar 08

Hi raijin, my nose has bled when I have been hot or exposed to the sun to long but never when I have blown it. I think it could be because of my allergies as I've been blowing my nose all week and could of overdone it :) I'm glad it's stopped though. :)

• United States
19 Mar 08
Hey maddysmommy I think maybe you blew your nose too hard. But I would keep an eye on it. Thats never happened to me so I dont know what to tell you. If it happens again maybe you should call your family doctor. But I think you will be fine.

• United States
19 Mar 08

Hi Terryz, I think I might have blown too hard. My nose has bled before without me blowing it so it kinda gave me a fright, but I do feel ok now that it has stopped. I hope its just a one off thing too.


• United States
19 Mar 08
I don't get nosebleeds. I might have had one or two as a child, but I honesty don't ever recall having one as an adult. My ex husband was prone to having one occasionally, and we were told that those with high blood pressure can be prone to them. If you did blow your nose hard, it's possible you ruptured something, especially if it's already irritated due to your allergy condition. If it stopped, I wouldn't worry about it too much unless it happened more frequently. How's your blood pressure?

• United States
19 Mar 08
It has stopped thanks. I just got a bit of a fright because it has never bled this way before. I have on occasion had a nose bleed that just started out of the blue and with no nose blowing - actually it happens a lot with my siblings. As far as my blood pressure goes or the last time I checked I was ok. I am due for a full physical within the next month or so, so I'll talk with my doctor about that if it happens again. Thanks Ldyjarhead for your response.