Have you ever read a book with an unusual title?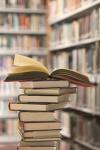 United States
March 19, 2008 11:06am CST
I'm not a big reader but I have seen some book titles that made me look twice.... 1.How to Avoid Huge Ships by John W. Trimmer 2. Scouts in Bondage by Michael Bell 3. Be Bold with Bananas by Crescent Books 4. Fancy Coffins to Make Yourself by Dale L. Power 5. The Flat-Footed Flies of Europe by Peter J. Chandler 6. 101 Uses for an Old Farm Tractor by Michael Dregni 7. Across Europe by Kangaroo by Joseph R. Barry 8. 101 Super Uses for Tampon Applicators by Lori Katz and Barbara Meyer 9. Suture Self by Mary Daheim 10. The Making of a Moron by Niall Brennan 11. How to Make Love While Conscious by Guy Kettelhack 12. Underwater Acoustics Handbook by Vernon Martin Albers 13. Superfluous Hair and Its Removal by A. F. Niemoeller 14. Lightweight Sandwich Construction by J. M. Davies 15. The Devil's Cloth: A History of Stripes by Michel Pastoureaut 16. How to Be a Pope: What to Do and Where to Go Once You're in the Vatican by Piers Marchant 17. How to Read a Book by Mortimer J. Adler and Charles Van Doren These are some of them that I have seen. What is the most unusual book title you have ever seen? Did you read the book?
2 responses


• United States
19 Mar 08
Hi, ctrymuziklvr. Those are some pretty great titles. I don't know if this is the most unusual one I have ever seen, but I have always liked the title of the book called Zen and the Art of Motorcycle Maintenance by Robert M. Pirsig. It is an okay book, too, if you are in the mood for that kind of thinking(it is subtitled, An Inquiry into Values).