Food you would never eat for breakfast

Indonesia
March 19, 2008 11:27am CST
I heard that in some western countries there are some type of foods that are not normally eaten for breakfast. In some reality show I saw (I forget what it was), a man was served a huge plate of chunks of meat for breakfast and a woman disgustingly said "I can't believe he would eat that stuff at this time of hour". Is this true? what type foods exactly are not normally eaten for breakfast and why? Here in my country there are no limitations as to what you eat for breakfast. Well, not that I know of. I'd eat anything for breakfast.
7 responses

• United States
19 Mar 08
I know a lot of people who are very funny about only eating breakfast foods in the morning, like cereal, eggs, toast, etc. I think the only time I have a hard time eating something out of the norm for breakfast is if I eat it immediately when I first wake up. But once I've been awake for a while and my disgestive system has had time to kick in to gear it would be okay with me to eat anything.

• New Zealand
21 Mar 08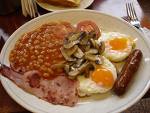 When we were in England last year we stayed at one place where the breakfast always consisted of the typical 'English Breakfast', that is, sausage, tomato, egg, fried bread, bacon and baked beans. I enjoyed it once or twice, but not four days in a row. Normally I have muesli and toast for breakfast. http://mikecrowlstraveldiary.blogspot.com/2007/10/on-ferry.html

• Philippines
24 Mar 08
I think that there is no really definite food to be eaten at breakfast. You can eat anything that you want. There are times that I crave for sweets , when I wake up in the morning so I would munch a bar of Snickers. Sometimes I have rice or bread. Here in my country, old people would say that to drink anything cold first thing in the morning. But I do believe that some of the beliefs may have health impact as well.

• Indonesia
24 Mar 08
I agree. health impact may have a big affect on how a person eats. A person's body may react differently from another even though its towards the same food. geographical conditions, climate, genetic heritage may also have some affect. I'm thinking that's why eating cultures in each countries and each nations are different.

• United States
21 Mar 08
I rarely eat breakfast in the morning because it makes me feel sick, but when I do eat breakfast, there's no limit on what I'll have. I've eaten thanksgiving leftovers for breakfast with no problem. Heck, I'd eat a burger for breakfast if it was there. As long as I like the food, I'll eat it. No matter what time.


• Garden Grove, California
20 Mar 08
I think here in the United States we would probably not eat salads for breakfast as a rule as we are more likely to want cereal and milk or eggs and toast or pancakes and sausages for breakfast with maybe some fruit. but I think veryfew of us would choose salads or veggies for breakfast.

• New Zealand
20 Mar 08
Hi there... For breakfast, I dont think I can deal with ice cream, or something really heavy, like a fry up, but I dont have a problem with cooking a huge hearty breakfast, especially for fathers day or any other special day... Have a good one...