Oreo's are magnificent!!!!!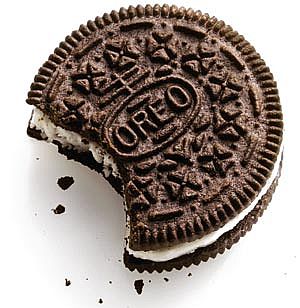 4 responses


• Regina, Saskatchewan
19 Mar 08
Finally! Got a leg over on ya P1ke. I had my first Golden Oreos yesterday. Soooooo good. And the bits left in the bottom of the glass after the milk is gone don't look so gross either. LOL


• Regina, Saskatchewan
19 Mar 08
Keep your eyes open for the Golden Oreos then radairc. They are finally on the market and they are soooooooo good. But, as I'm teasing P1ke, I can't tell you where to get them yet. Stay tuned. lol

• Regina, Saskatchewan
19 Mar 08
I live in the backwoods of Pennsylvania, so we just got them at the local gas/bait/snack shack. lol But shhhh, don't tell P1ke. And at least you don't call them biscuits! *shudders*


• Regina, Saskatchewan
19 Mar 08
Oreos my dear axle are NOT biscuits. They are cookies. Say cooooookiiiiies! lol And they may be good in tea *shudders*, but they are best when one side is gently twisted off, the centre icing licked clean and then dipped in a tall cold glass of milk! That's the American way, and we've been doing it for donkey's years. Try it, you'll like it. I promise. LOL

•
19 Mar 08
I am delighted to feel your leg over my own Sparky. But your kneeling on the old war wound so if you wouldn't mind shifting across. OOh , how did that happen. Sheathed again. Agh, cookie crumbs. I shall hold you here until you tell me where you obtained these cookies. In fact, I shall call them biscuits, biscuits, biscuits until you tell. So there!

• Regina, Saskatchewan
19 Mar 08
Licking my golden oreos and not telling, not telling, not telling. OH! Those aren't golden oreos! LOL This is more fun than telling.....


• United States
23 Mar 08
Oreos are truly a piece of heaven, axle, to be sure. I just bought some while ago and intend to dunk them in milk till they're soggy enough to melt in my mouth and mmmmm, mmmmm good! A local place called Wing Zone has these little delights called brownie bites. They are chunks of brownies that have been deep fried and they come to you warm and they are to die for, believe me. Chocolate heaven!