What is your favourite hair style?

Mauritius
March 21, 2008 2:11am CST
I just went from long-ish blonde hair to short black hair! It's normal for me, I like to change my hair often and it is, after all, only hair - it grows! Most people don't even notice my hair changes anymore as they have seen it change so often, but now I'm in a new country and working in a new place. The reactions have been priceless - some people are horrified and some love it - and some just didn't recognise me at first - lol!! What is your favourite style and colour?
1 response

• India
21 Mar 08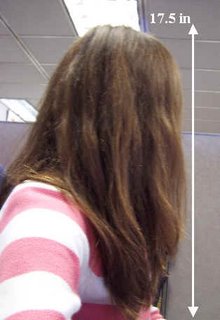 My hair is naturally thick and dark. It's about 3 inches past the bra strap across my back, I like to keep it long. Right now I have long layers in it. My hair is also naturally wavy but I find it looks best when I flat iron it and wear it straight. What I do is blow dry it dry then use the Chi (best flat iron ever!), that way I still have lots of body in my hair. Wearing it this way allows it to shine and since it's thick it stays healthy a long time despite the heat I put it through.

• Mauritius
28 Mar 08
Your hair sounds lovely! I would love thick hair - when mine is long I have to blow-dry it every day to give it a bit of body! I have discovered that hair sillicone helps keep it healthy though - it helps with the heat of the hairdryer. Thanks for your response deep!

• Mauritius
28 Mar 08
I do try to look after my hair - but I think that the passion I have for changing colour does kill it a bit ;-) As for all the rest I am very good. Also my closest friend is a hairdresser. We have been friends for 18 years so I do get good treatement for my hair. It just drives her mad when I change the colour myself and ruin the ends - lol!