You must be gilded to be adored

March 21, 2008 9:11am CST
Is what the French author Baudelaire said about women and makeup. I must admit that like to see people take trouble with their appearance. I don't think that we try half hard enough in the West, especially once we get into our thirties and we have so many other things to worry about. What effort do you take when you go out. Is it full makeup and smart clothing, or are you happy in sweat pants. Needless to sy I am a hyprocrite in these matters. I love to dress up, but don't usually make much of an effort.
11 responses

•
21 Mar 08
I used to be like that but not any more - in fact I haven't worn make up since my niece's wedding a year ago! My 6yr old 'borrowed' all my make up and ruined it! She now has more makeup than I have owned in my entire life and looks after it very well and I was left with none although I have started buying some every time I go shopping and almost have a whole 'face' together now! lol I do try to look presentable but wearing make up is not a priorty anymore! xxx

•
21 Mar 08
I know what you mean by children having more makeup. When my daughter went of to Uni I decided to clear her room (do it up for her, not rent it out. But it's tempting!) and I found boxes and boxes of makeup that she doesn't use. I don't know whether it wears out, but it all went to the tip. She has new makeup now and hasn't noticed anything missing, so I think that I got away with it. Hope that she doesn't read this. I am sure that you look great with or without makeup.

•
21 Mar 08
LOL once you open make up it does start to go 'off', bacteria builds up in it, so it is probably just as well you threw it out - if she ever finds out just tell her you were looking after her and didn't want her face covered in nasty germs!

Well done on resisting the temptation of renting her room out - could you imagine the look on her face when she came home and discovered 'her' room wasn't there anymore! lol Thanks for the compliment sweets - wish it were true but hey as long as I have a good looking heart thats more important! xxxx


• United States
31 Mar 08
I have learned in NYC not to go out unless you are dressed up. I have ended up on TV twice and have been very thankful I was dressed, pressed, and ready to go. From those two times I have learned if I am headed out get dressed up. Ainge

• United States
31 Mar 08
You can see me when I pick up my Pulitzer. Hey there, you might want to go see my poem that MyLot won't put up. I am not even going to try because it is to graphic. http://www.associatedcontent.com/article/676767/yes_drill_sgt_sir.html Always good to see you. Ainge

• United States
31 Mar 08
Also, I usually do not wear make up, I am blessed that I don't have to. Only for the parties that I go to do I get all dolled up. Ainge


• Turkmenistan
21 Mar 08
To be honest, for me, it all depends on my mood and where I am going. If it is some where that I really don't want to go, but know that it is important that I do go, I will throw on anything and get it over with. If I am in a good mood and want to go out and have fun, then I take special care with the way that I present myself. I am not much of a make-up wearer, but I do like to look nice.

• United States
21 Mar 08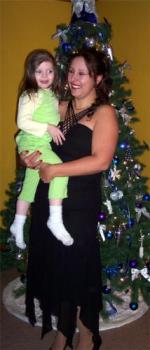 It all depends on where I am going and what mood I am. Yesterday I ran out to meet with my female realtor to look at a house. I could just as easily left in the sweats and T shirt I was wearing but I changed into a nice shirt one of my nicer pairs of jeans did my hair and my makeup. Today I have to finish grocery shopping and the people in the store should consider themselves lucky that I found the energy to brush my teeth and change out of my pajamas. But when I am going out, to a party, social event, etc. I make it a point to look my best. Hair, makeup, clothes, it all has to be perfect before I will ever leave the house. I'm not a "girlie girl" but I can dress the part really well. I'm including a picture of the last time I got dressed up. I am holding my adopted evil giggle pie so you can't see the whole dress but can get a good idea.

•
21 Mar 08
If I used those measly things (as in measles) there would be one with it's tongue hanging out. So I am afraid that you'll just have to make do with a mental image of me with my tongue hanging out. Gorgeous as ever - and I have no doubt that you are every bit as luscious whatever you wear.

• United States
22 Mar 08
I love the phrase "smart clothing". :) When I go out I have to be dressed up and fully made up. I can't go out in sweatpants unless it to the grocery store or some other errand. If I'm going out for dinner or a bar, I dress up and wear full make up. I feel more confident and ready to face the world. I like to be complimented on my outfits or the way I look. It a good massage for the ego that can sometimes need a boost. I just all around feel better about myself- made up and dressed up!

• United States
21 Mar 08
I don't get all dressed up and put make up on just to go out and get shopping done. Now if I have a good job or an interview or am going for a night out with friends then yep I dress to the 9's LOL!! but around the house and just grabbing groceries or going to walmart. I don't bother to get dolled up.

•
21 Mar 08
I think that very few people do these day. When I was a boy, I used to have to wear a tie and jacket if we went shopping in our nearest major town! I didn't lit, but I wasn't the only one by any means. But it is nice to get all dressed up sometimes. I have noticed that girls tend to put more of an effort into dressing up than boys, even on special nights out.

• United States
22 Mar 08
it is nice to really get all decked up and go out. I do know some guys who spend more time in the bathroom getting ready than the other women I know LOL!!!

•
21 Mar 08
During the week I'm either in uniform for work or casual to and from the school, but if I go out I like to dress up and do wear a little make-up, but make-up is something I have never worn much of even as a teenager so people just have to accept me for me eh! Ellie :D

• Garden Grove, California
17 May 08
When I am going out with someone I do try to look my best with my best skirt andblouse and some make up to accent my best features. I do not get to go out too often so try to make it a special time for allof us.I always manage to wear some make up and some good cologne and a favorite lipstick too.

• United States
21 Mar 08
It really depends on where I am going and whether I can be bothered to dress up or not. My dressing up is mostly jeans (dressy or casual), a nice shirt or top with comfy flat shoes and on occasion I might wear dress boots. I don't wear makeup other than lipstick or lipgloss. The only time I tend to wear sports gears is when I'm off to the gym or going for a walk.

• United Kingdom
21 Mar 08
Well, I hardly go anywhere worth dressing up for so it does make a change when I can. I must admit though that I don't "do" dressy or anything. I'll add a sparkly top to a pair of jeans instead of my skull and crossbones jumper! If it's really a special occassion, I will make the effort to wear something nice but as for make-up. The way I see that is, if you like the way I look then you like the way "I" look, not the way I look in make-up. For me personally, I think I look good enough without having to be "gilded" and if other people don't like that then it's their fault. I don't understand why some people dress up to go shopping and I certainly will never know how someone can look absolutely perfect with kids in tow! But basically, yes, I do think it's important to look respectable but there is no need to make a special effort all the time and there should be no reason for a girl to feel she has to wear make-up to look good.

•
21 Mar 08
I think that we all dress for ourselves most of the time, but sometimes it is nice to get all dolled up. I can imagine that for most women they either do makeup or they don't. But some do tell me that a bit of "slap" makes them feel brighter. But you're quite right. I can think of plenty of women that look good without makeup - in fact some cannot wear it well and end up looking like something from the circus! I'd never tell them that of course.