A Great Saturday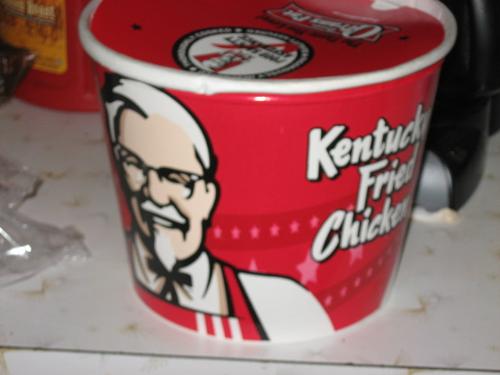 United States
March 22, 2008 4:15pm CST
Well my daughter arrived around 9 this morning. The grandsons were at their other grandparents for the Easter Holiday. So my wife and daughter went to the bank. I stayed home to clear the front deck and driveway of this darnded snow and ice we got Friday and Saturday morning. They returned shortly after I finished the snow shoveling. A short time later they returned with KFC for lunch. Mashed taters, biscuits, coleslaw, and gravy. We all ate a good lunch then rested about an hour. Then we headed out for some shopping. We stopped at Burlington Coat Factory. My daughter bought a few things and we left. Went to Sams Club for some shopping of bulk items. Got lunch meat, paper towels, toilet paper, some Chuckles Candy for me, oranges, strawberries, canteloupe, milk, bread, Pop Tarts, and a bunch of other things. We gave a lot to our daughter as we do almost each time we shop. We got home putting everything away then sat and chatted till it was time my wife had to leave for work. My daughter drover her instead of her taking the bus as she goes close to the restaraunt on her way home. So all in all I had a busy yet fun filled relaxing day. Now I'll sit here a bit to myLot. How is your day going so far? Anything exciting you care to share about your days activities? HAPPY POSTINGS FROM GRANDPA BOB!!~
6 responses

• United States
22 Mar 08
My daughter finally picked up my granddaughter so I can start getting ready for tomorrows dinner. I have 6 people coming and a lot of work today. I tried to get a little bit done while spending time with Vicky but at this point there is so much that it's better that I do it alone. I decided to check out mylot before I really get into it and I'm probably going to be up a lot later than usual.

• United States
22 Mar 08
[b][/b]Read my discussion about dads safety yet? Anyhow he isn;t going with us tomorrow. My son-in-laws parents and brothers are going to be there also. So i think theres going to be a total of around 10 or so for easter lunch/dinner. I stayed up last night till 6 a.m. responding and surfing. A rarity for me on a weekend. Plus I've been here since 4 when the wife left for work which I seldom do. HAPPY EASTER! HAPPY POSTINGS FROM GRANDPA BOB !!~

• United States
22 Mar 08
OOOOOOOO now I suppose you went and ate all the chicken and didnt save us any? And why you didnt call us for lunch we like KFC. anyhow we went out this morning to our grand daughters cheer leading competation was a blast they even had a dance comp. for the parents now that was fun to watch. got back home late this afternoon and now im gonna nap and than fix the grand babys baskets for tomorrow and watch my hunny make the pies. have a great easter!

• United States
22 Mar 08
You must have dial up service? I called and the line was busy.

How old is your granddaughter? My dauh=ghter is pregnant and we all are hoping it's a girl. So did you enter the competition then as well? I want a pie too.


I know, make my own right?
HAPPY POSTINGS FROM GRANDPA BOB !!~

•
22 Mar 08
We had a quiet day really, did the weekly shop which is always interesting with two small children in tow. Came home had lunch I did some work while my youngest had a nap and then we all sat and watched a dvd well tried to mostly we spent it playing with the kids, now they have been in bed 2.5 hours since 7pm and ive cleaned up and sat here watching tv and doing more work lol now im taking a break!

• United States
22 Mar 08
I have the grandsons visit us every other weekend and the oldest hates shopping as
mom and Grandma go to too many stores
in his words.

Have a great day/evening as well.
HAPPY POSTINGS FROM GRANDPA BOB !!~

• United States
22 Mar 08
I have not left the house yet today, and I probably won't. I have not done too much so far today. We colored Easter eggs this morning. Then I watched a movie called The Painted Vail. I made a blackberry pie with a lattice top crust, baked a carrot cake, made some Coffee Toffee, and made a few toffee covered pretzel rods. The cake is cooling right now. When it is cooled it will be transformed into a bunny cake. Right now I am taking a break and in a few minutes I am going to hop in the shower while the baby naps.

• United States
22 Mar 08
Yummy a baker. Gawd I want some home made apple treat of any kind right now. Comes fall I'll be baking plenty things with my home grown apples. Yummy. We will be doing eggs next weekend as the grandsons are at the other set of grandparents for easter weekend. We got the candy and stuff for their baskets all set and our daughter took it home to make the baskets for us. The boys know grandpa Bob always has their baskets and Christmass stockings for them. Have a great day. HAPPY POSTINGS FROM GRANDPA BOB !!~

• Australia
23 Mar 08
hi grandpa bob... glad to hear that you have a nice and relaxing day... i also try to have a nice and relaxing day today as it is Easter here now... i am going to go to the church later this afternoon for the Easter service... me and my hubby can't go anywhere as all the shops here are closed today... so we just stay at home and try to relax...

• Garden Grove, California
28 Mar 08
My day was sort of dull except for the time I was on MyLot which was most of the day.I seem addicted to the site and get so interested in all the various topics and discussions and lo and behold it is time to fix lunch then its back to mylot and so on allday and now its almost eleven at night and am still on it.Iam retired with nothing much else to do. so Itwas not exciting and yet it was fulfilling on MyLot Grandpa Bob