What do you think about GREY'S ANATOMY?

Singapore
March 23, 2008 10:07pm CST
Oh i love this tv show... very interesting story. And i love the way they talk and discuss something, it will turned serious but jokes at the same time. aheehe... i do enjoy to watch every scenes. i even collect their dvd from 1st season until 4th season... i'm excited to watch the next season...
4 responses

• United States
24 Mar 08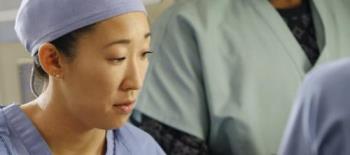 I love Grey's Anatomy but it seems like lately it has lost some of it's spark. I'm really not fond of the new interns and I can't get into the spat between Merideth and her sister. I liked the original group with their inside dramas better. Not liking McDreamy hooking up with a different doctor either.. it just seems like they are veering away from the whole reason everyone watched the show to start with. But I got hooked to start with, so I'm a lifetime viewer.

• United States
24 Mar 08
I've been hooked on Grey's Anatomy for about three years now. I had to go back and rent the DVDs of the first season to find out what I missed. Like commented above, the story isn't as interesting as it once was, but I'm sticking with it. Same with ER, I watched it from the beginning, it's not as interesting off and on, but I won't miss it. I also hear Kathryn Heigl -(Izzy) is thinking of leaving, we'll have to see what comes of that rumor. ...whit

• United States
24 Mar 08
I think she was going to leave because the network wasn't offering her enough money but they worked out the contact and now she's staying. I'm not sure if there's been rumors since that and she's maybe planned on leaving for other reasons, though.

• Philippines
24 Mar 08
lol.i watch this too. i like Chrisina and Miranda Bailey the most. i love the shows witty antics, dialog and remarks. Season 4 is ok. but i like season 2 better. i love addison montomery-shepherd!! she's so funny and gorgeous. im sadden because she's no longer in season 4 but its ok. sloan toke her place. i love his jer-type character, so in contrast with derek.

• Philippines
24 Mar 08
oh its really nice, the show i mean. its romantic but what i dont like is that it evolves too much on the lives of the doctors, which i think is what the show is all about. what i really like right now is the shoe House MD. if you are into those hospital, medicine stuff, you should watch this show if you still havent watched it.