I'm hating this time change. Is it effecting you?

United States
March 24, 2008 7:12am CST
Maybe I just have to get used to it but I've been gettin up at 6am feeling like it's 9am because the sun is so bright and I hate it. My days are long enough without having to get up so darn early. Is the time change effecting you in any way? Do you like it or not?
6 responses

• United States
25 Mar 08
Ah yes ctry, I hate it, I keep a dark cover or blanket over my window all year long. I wake up at the first site of light, and I don't sleep well at night because of fibro. I would love to find something to completely black out my bedroom windows, but I don't want them to look ugly either, so I'm kind of stuck hhhmmmm!

• United States
25 Mar 08
You have a good idea there. I just might put a blanket up on the window when I go to bed at night and take it down in the morning....the answer to my problem...thanks


• United States
25 Mar 08
I am so happy to help. I know what it is like to be sleep deprived, no fun! Let me know how it works for you, I started doing that back many moons ago when I worked the grave yard shift.

• United States
24 Mar 08
Oh now it takes me a couple days to adjust but for the most part I love it - it's still a little dark when I wake up (morning person) but I love it not being dark at 6 in the evening.

• United States
25 Mar 08
I don't mind having the light longer in the day that's for sure but my "body clock" still hasn't caught up to the morning change. I really hate when we change the clocks back or forward.

• Australia
25 Mar 08
Are you referring to daylight saving? We have daylight saving for six months every year, from September until late March. Our clocks get moved forward one hour. I love it. It means I can get out in the garden until 9.00pm & water or weed it. The kids can play in the park until later. There are a lot of people ion south australia who dont like daylight saving, mainly the farmers. I think daylight saving ends here this coming weekend. The changeover is difficult.

• United States
24 Mar 08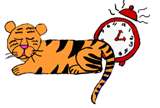 I'm sorry ctry, I love it because the day is longer in which we can get more done in a day than we could before. That is as long as our bodies hold up meaning not getting too tired before finishing what we've started. lol

• United States
24 Mar 08
I dont mind it. IN the summer it is good to started before the heat sets in as I can't afford to run the AC.! But I don't like it when it gets DARK at 4:30pm! I mean, it is dark for a few hours nad I think "okay, been dark awhile, must be arount 9 and time for bed" and I look at my watch and it is only 6:30pm! By then my mindset has gotten me into the sleepy stage as it has been dark so long which makes one tired, knowing bed time is so near!......I wish they'd leave it like this year round. Light in the morning to get started, light in the eveing, to be able to use a few more hours if you need to!