Cheney "SO?"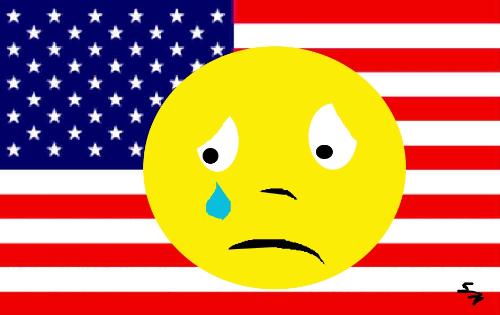 United States
March 25, 2008 3:06am CST
During an interview with ABC News' Martha Raddatz Cheney let loose with a bit of undiplomatic and perhaps heartfelt language? I hope it wasn't heartfelt, because it says very disturbing things about the vice president of the United States of America and his views on those he governs and sends to war.

~
RADDATZ:
Two-third of Americans say it's not worth fighting.
~
CHENEY:
So?
~
RADDATZ
So? You don't care what the American people think?
~
CHENEY:
No. I think you cannot be blown off course by the fluctuations in the public opinion polls.
~ Watch the Interview! * http://www.youtube.com/watch?v=SypeZjeOrY4 * For slower computers, the written transcript! http://abcnews.go.com/WN/Vote2008/story?id=4481568&page=1
6 responses

• United States
25 Mar 08
This illustrates the difference between the Bush Administration and the Clinton Administration. The Clinton Administration was run on public opinion.... and as soon as public opinion turned against the war in Iraq he would have pulled the troops out, even though it meant throwing the Iraqi people to the wolves. The Bush administration is run on actual leadership, and when he decides a course of action then he doesn't much care what public opinion is. That is the sign of a true leader... to carry on in the face of adversity without regard to what others might say or do. He is simply doing the job he was elected to do... and he did it without getting impeached over improprieties committed while in office. Cheney was exactly right in what he said.


• United States
26 Mar 08
The Middle East is deteriorating. I don't call that victory. The green zone's getting rockets lobbed at it.

• United States
26 Mar 08
Well, neocomp knows nothing of leadership skills or how our government works, and he wouldn't know a dictatorship if it bit him in the butt. This country isn't run on majority rule, it is NOT a democracy, and it NEVER WAS a democracy. It is a REPRESENTATIVE REPUBLIC, which means that the people we elect make the decisions for us, no matter what public opinion is. It is our job to try and elect the people who will serve us the best, but once they are elected they pretty much do what they want. Congress is notorious for doing that. The president is the leader of our country and he is the one that makes the decisions. If you don't like the decisions he makes, then the next election is the only real say you have. It never ceases to amaze me how many people have not grasped that very simple concept, and it makes me wonder what the schools are teaching these days. CraftyCorner... Yes the green zone is getting rockets lobbed at it and that is to be expected from time to time. There is a war going on there, and things like that are bound to happen. Did you see the reports of the progress being made... where Iraqi security is now doing the fighting against some of these militias? It has been a long time coming, but it looks like they are well on their way now to being able to handle their own security at last. With the elections coming up, we will probably see more violence in Iraq as these groups are trying to influence our elections here.

• United States
27 Mar 08
Higher violence in Iraq is to be expected to effect our elections. * Yet, Chaney's tour leaves me uneasy for reasons I cannot express properly. It has a feeling of "the other shoe about to drop" that little to nothing to do with Iraq and it's situation.

• United States
25 Mar 08
It could have been put a little better but he was right on. As a country, if we are swayed by every notion the majority of the country comes up with, nothing would be accomplished. The public agreed with this war in the beginning, unfortunately, a lot of those polled either have Vietnam Memories, or are too young to know what a real war is about. People die in wars, it is a fact, but wars are won by making more of them die, which we also have done.

• United States
26 Mar 08
The question at issue was
why
we went to war in the first place. We've yet to find those WMD's. Can you tell me just where they are or went? There is also the fact that Iraq is now a training ground for terrorists where it was not before.


• United States
26 Mar 08
The entire Republican Guard were trained terrorists. I firmly believe the WMD's are in Syria. It was well known that we were building up our military, so I am sure Hussein moved them.

• United States
27 Mar 08
Israel bombed something in Syria, that's for sure.

• United States
26 Mar 08
I am not surprsied in the least, Cheney is one creepy guy in my opinion. There is a standing joke in my neck of the woods. No one will try to assasinate Bush as long as Cheney is second in charge.Bush looks like a walk in the park compared to how iky and Creepy Cheney is. Geez I can't waite till these guys are gone. 8 years has cost us dearly, with these 2 in charge.

• United States
26 Mar 08
Cheney is kind of creepy. He seems like he's an alien or cyborg. Now cheney reminds me of an alien.. and Condi Rice a cyborg. No offense to them, but I get that thought in my mind when I see them. I hope out next President can undo the damage the Bush administration has done to our wonderful and free country. Unless then, it's party time!

• United States
28 Mar 08
Having watched the program "Bush's War" my opinion of Condi Rice has changed somewhat. The architects of that war were Cheney, Bush, and Rumsfield. Cheney and Rumsfield had the ear of the president, and the latter treated her like a servant, basically ignoring her sensible suggestions. That show is a good and recommended watch. It shows just how the Iraq war really ticked and got out the starting gate. * PBS is streaming the show for free online. * http://www.pbs.org/wgbh/pages/frontline/bushswar/

• United States
25 Mar 08
Wouldn't it be ludicrous for VP Cheney to change his mind at this point and say the war was a mistake. I'm glad the present administration has decided to stay the course and continue to support what the USA is doing over there. Now that the Iraqi people are doing better and on the verge of becoming a self sustaining democracy it would be sad to not finish the job. There have been dissenters to every war the USA has ever been involved in. Why would this one be any different?

• United States
26 Mar 08
Here's some history on America's actions in Iraq pre-2003 invasion. * http://www.anti-imperialist.org/Iraq-background_9-24-01.html

• United States
25 Mar 08
Wow. Just wow. It's the same kind of single mindedness that got us into the mess in the first place.

• United States
25 Mar 08
I know. That interview was so reveling it was scary. I hoped people watched it instead of vegging out to American Idol. One of their kids could be drafted to some adventure for Haloberton. * http://www.globalresearch.ca/index.php?context=va&aid=8429

• United States
26 Mar 08
What do you expect? Cheney was the one who went behind Congress' back and had people in the background behin the war. He kept pressuring Bush to do it, even when Condaliza Rice and Collin Powell were trying to prevent it. Everytime someone tried talking Bush out of the war, Cheney goes back and encourages him to do it. Everytime someone wanted to speak to George Bush alone, Cheney would go into the room with them so nobody could persuade him to not go to war. That's what stopped Tony Blair from trying to talk some sense into Bush when he asked to speak to him. Cheney is all about manipulation and power and he will do anything he can to get it. Right now, Cheney has more power than Bush because he can get Bush to do anything he wants.

• United States
28 Mar 08
Quite a good assessment. I just hope this doesn't eventually destroy this country. We've never had a VP quite like this before.

• United States
1 Apr 08
Hopefully we won't have another VP like Cheney ever again lol. I know that is probably gonna happen eventually though.