How do you think of ban the use of plastic bags when you shopping?

China
March 26, 2008 1:01am CST
There is a new policy in China that to ban shops giving out free plastic bags.It will start on June 1.I think that's a very good policy.According this we can reduse environmental pollution.Many cosumers begine to buy the cloth bags.Maybe it will very uncovinent at firt but I think we will adjust it and I believe we can do well so that we can make a contribution to protect the environment.
7 responses

• China
24 Dec 08
I agree with the decision. Plastic bags really have a bad effect on theenvironment. We can find many other ways to instead of it. Like using paper bags, fibre bags which are made by recyclable matrials But it also has its good points. I think many people still can not keep them away from daily life. Sometimes, when I go to the supermarket, i will forget to take the bags with me, so that I will find it is unconvinient.

• United States
27 Mar 08
If that is the case they should offer each customer at least three free cloth bags. I am glad I make my shopping bags. Because I could not buy those bags just to forget them home. Plus this may just as well save me money. I will shop less as I can't buy that many cloth bags to hold all my food.

• United States
26 Mar 08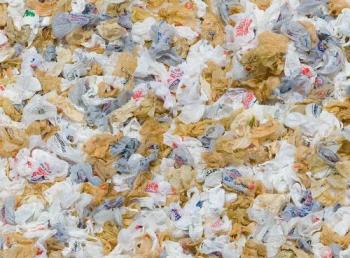 Here in the United States, those little plastic bags are very handy! I have 2 smaller trash cans in my home that I line with those little bags; I also keep one in my car to clean trash out of my car; people also use them to pick up after they walk their dogs (well, they're supposed too!)

A local supermarket chain makes you pay for bags if you don't bring your own, and many other chains don't have paper bags any longer, but do encourage bag recycling. There are also a lot of craft ideas online--search "plastic bags crafts" to find them. I use those bags a lot to gather extra trash around my home; it's easier than carrying the trash can around! I agree that something has to be done, but I'm less likely to remember to bring a cloth bag from home than I am to remember to use those bags to clean up my home! We'll all do our part--however we can!


• New Zealand
26 Mar 08
Hi there. I think if companies and stores would swap the plastic bag for the paper bag then we would no choice but to use the paper bag, which in the long run, is way better, for everyone.

• United States
26 Mar 08
I though plastic bags were supposed to be good, isn't that why they switched from paper to plastic. I suppose cloth bags are better for the environment, but they don't hold as much. If I were to start using them I would need 30 or more bags in contrast to my normal 12 or so.

• Indonesia
26 Mar 08
I also support the new policy of banning the use of plastic bags when we shop. it seems that my country will also apply the same policy as the campaign has started on every supermarkets here. however, this policy might bring trouble for the shopaholic people. :P just thinking about how many bags they would have to bring for their own, to satisfy their shopping experience. I think it would also reduce their shopping mania habits, added to environment saving.