body boot camp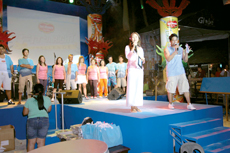 Philippines
March 26, 2008 11:44pm CST
have you heard of sprouting body/health challeges like th biggest loser and such? i just saw on tv this morning the first ever (that i know of) fitness challenge in our country wherein individuals who wanted to get fit were camped near the hills complete with gym ammenities, food, del monte fit & right, and such and were given a challenge to be fit and fab!wow, i think health moves like this are great.. i just wish that i heard of this challenge before hand and applied for it.. tsk tsk..

2 responses

• United States
27 Mar 08
While that is something right there. But yea I know what you mean. There are so many programs and things out there for losing weight. The thing is making sure that you choose the right thing. So maybe just do some research, the research can really help you far as finding what you may need to lose weight.

• Philippines
27 Mar 08
yeah.. i know.. but i've never been to camps before.. i think it would be a great experience.. being around with people who have the same goal as you do and in this case being heathy.. i miss events like those.. before, in high school and college when i was still part of the school's softball team, we train hard in the summer.. i just miss the rush.. when i try to work out alone, i get really bored really quick.. especially when no one's pushing me or that i don't feel the pressure to exert effort because there's no one to share the experience with..

• Philippines
12 Apr 08
Yeah, I've seen the Fit and Right challenge! =') The biggest winner was a woman. She had beautiful eyes ='p You probably already know, the health industry is the predicted Trillion dollar industry. Sprouting spas, health, fitness, and such-like centers are getting on the bandwagon. As for me, I wanna get fit, fab, and fat. :'p