Who love to eat Bakso?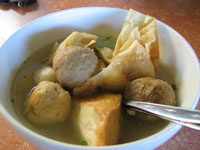 Indonesia
March 27, 2008 11:06pm CST
I do!!It's my favorite.

Bakso (Bahasa Indonesia=meatballs) is the Indonesian most populer soup everyone can buy anywhere at anytime. I am quite sure that almost every Indonesian likes or loves bakso. I love it with a lot of tomato sauce, ketchup and a lot of chilli. This food is perfect to consume in the hot days and also rainy days. I think just talking about it, makes me want some bakso. Have you got any experience eat once?
10 responses

• Malaysia
11 Oct 08
I have tried it in Malaysia and it's great. It's also common in some place in Malaysia. My friend showed it how to mix the chili sauce, soy sauce & etc. It tastes great and I didn't know about bakso until my friend told me about it. Besides, I had tried gado-gado, and lontong too.

• Indonesia
13 Oct 08
I want to taste Malaysian Bakso! is it the same like Indonesian? LOL

Yes i like to give some sambal and tomatoes sauce and soy ketchup in it taste colorful! so fun!!


• Malaysia
14 Oct 08
According to my friend, it's not as tasty as what's available in Indonesia. It's just ordinarily delicious. Ya, that's right, another thing that could spice up the bakso soup is sambal. I forgot to mention it.

When you visit Malaysia, I think it won't be difficult to find it.


• Indonesia
16 Oct 08
Ah! you are just being modest! I have visit Johor Bharu for 3 days, and i try food there, they are great! specially the milk tea !! i just can't forget the taste. Yum Yum

To satisfied my missing taste i buy max instant milk tea at the supermarket



• Malaysia
12 Oct 08
Hi diansinta, the different shapes of meatballs in the big bowl of soup make my mouth so watery.

They look quite similar to those in my place. I had eaten these delicious bakso the time I visited Bali during the end of last year. I always prefer the original taste of meatball, so I don't like to add any sauce to it while eating. Besides these lovely meatballs, I do like fish balls and sotong balls very much. The sotong balls sold in the food stall here in the nearby hypermarket really tasty. Very often my husband and I would visit the stall during during evening tea time. We are used to share a bowl of them. Just like you, my hubby loves to dip with lots of tomato and hot spicy chili sauce

I wonder whether he loves the taste of the balls more or the sauce more

..... Happy posting and cheers!

• Indonesia
14 Oct 08
Hi lkbooi, Yum YUM!!! Do you have Malaysian meatball picture? I would like to know

WUAH! fish ball? Like empek palembang?I love fishball too. But i never eat sotong ball what is taste like..

Yup! dipping at tomatoes and chilli are more colorful :D I like to eat it plain without sauce and chilli or soy ketchup when the quality of meatball is good. full of meat and composition is perfect, we can see it by the smell too. Happy posting to you too!! oxoxox'dian from Bali island.


• Malaysia
17 Oct 08
Hi dian, I'm sorry to say that currently I don't have any in hand. To satisfy your curiosity and to introduce the meatballs here to friends as well, I promise I would take some conspicuous images to show their features with you here. Today is my vegetarian day I don't take any meat the whole day so I would endeavor to get some tomorrow or other day

You are totally right, only the good quality ones with delicious composition like onion, carrot and would taste much yummier with their original taste without any sauce added to them


Happy posting and cheers!

• Indonesia
28 Mar 08
I loved bakso! I used to eat bakso, maybe three times a week. At the first time (in my childhood), i did't know how to eat it. i think it's like another "sayur", so i put rice in my bakso

I haven't eaten it since years ago, since I try to be vegetarian. You know, vegetarian don't eat meat, garlic, onion, fish, egg, mushroom (some types of vegetarian eat egg and mushroom).

• Indonesia
28 Mar 08
I am sure you still remember how bakso's taste like, Sutanhartono. Congratulation for being a vegetarian :D it is a really healthy life

. If you don't mind, i want to ask about : What your motivation to decided to enter the vegetarian world? I thought garlic, mushroom and onion are supposed to be vegetable. why you not eat it?



• Indonesia
12 Oct 08
Yeah! long life bakso! Thank you for dropping by gukguks!! i will visit your discussion in return.

Happy posting always oxox'dian from Bali island.


• Indonesia
28 Mar 08
Tell me about dumai bakso, siZidni what is the different with the ordinary bakso?

• Indonesia
28 Mar 08
hello diansinta. I'm Indonesian too. and love bakso very much. however I didn't use tomato sauce and ketchup. I only have some chilli and I prefer eating bakso this way.

yes, we can find bakso everywhere, in various places of the city. now it's lunch time and I'm hungry. LOL. unfortunately, I'm at home and don't store bakso at home. :P

• Indonesia
28 Mar 08
Thank you bongkarpasang

. LOL yeah its my lunch time too i feel hungry.

Talking about food alway makes me hungry. So,.. lets find some bakso! thanks for dropping by at my discussion. I will find yours in return


• Indonesia
16 Oct 08
LOL. I eat them sometimes, but to be honest it wasn't my fave meal. It was my partner's fave meal though and she sometimes just crave to get more when she really want it LOL. I don't know what's so special about the meatballs because for me it was just a ball from meat just like other LOL.

• Philippines
16 Oct 08
I also love meatballs.Especially when it is prepared as soup.We do not hev a special neme for it,just meatballs soup.it tastes good.if i will be given a chance to visit India,i will surely be trying out Bakso.maybe it would taste a little different from our local meatballs soup.But it would definetely taste good.im pretty sure of that. Have a nice day diansinta