Do you pay attention to the size of your partners feet?

Jamaica
8 responses

•
28 Mar 08
LOL....ive ever really though of feet coming into it!!! My son in law has huge feet..a size 11 and my daughter loves him to bits!! A tall man or woman maybe wouldnt look quite right with small feet.....maybe their balance would be affected!!lol

• Jamaica
31 Mar 08
Hi Ruby. I know a bit about the balance thing. I have small feet and take a ribbing from my brother about it every now and again. He claims my feet are so small I have a problem maintaining my balance. I used to think he might have a point but now........nah. My feet are quite fine. Relationships really should not be based on such trivial matters. Like your daughter we should just keep on loving the one we love.


• Philippines
30 Mar 08
Haha! Yeah, it sounds ridiculous though but some makes considerations on that. Personally, I don't. It's not big turn off, as long as it doesn't look abnormal or extraordinary to him or her.

• Jamaica
31 Mar 08
I have actually heard guys say they would date a certain girl because off the size of her feet. They claim they would not be able to afford to buy her shoes. The funny thing about it is usaully that they themselves have big feet. When this is pointed out some reply that that is even more reason for them not to get a woman with big feet as they wont be able to afford shoes for both ofthem. Of course this is just guys being guys as I have seen some throw that theory out the door once love hits. I dont seem to find much women with that no big feet theory though. We're more rational..........you think? (lol)

• Philippines
2 Apr 08
Yes, you are right, when love hits, other certain things are thrown out the door.

• United States
28 Mar 08
Big feet, small feet not a problem for me. I fell in love with my husband beause of who he was and not because of the size of his feet or anything else for that matter LOL I do feel for him though as sometimes it's hard to find a size 13 shoe that fits him well. I'm just glad that I can find shoes in my size 9.5-10 most of the time.

• Philippines
30 Mar 08
I don't pay much attention to the feet...I am after the hands. winks.

• Philippines
31 Mar 08
Yes, I guess so... it goes with the joke... a man with long feet have long ____ shoes. They say it's the same with the fingers - the longer the fingers, the longer the _____ gloves. Oh my, my humor is a bit bad.

• Philippines
31 Mar 08
Hehehehe.... I am saying, I like long fingers. =)


• India
31 Mar 08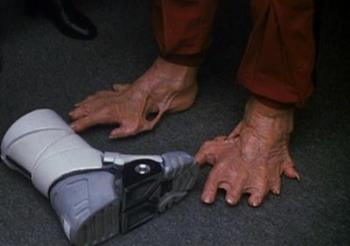 I read something once that compared with horses -- there is the racehorse-type woman with long, beautiful legs who will take you on the ride of your life but is dangerous and high-maintenance and very temperamental, who tires quickly and will buck you off first chance she gets. And then there is the workhorse woman, with thick, strong legs, who isn't very exciting to look at and even less to ride but you can count on her to be with you for the long haul.

• Philippines
31 Mar 08
Others have this thing for feet, size, how it looks, or maybe other physical qualities that they look to a person first… but as for me, it doesn't really matter. i take him whatever his feet size is, big or small. I love him for what he is, so I guess unless his feet size has to do with his personality, I guess that's the time I will focus on that. He he


• United Kingdom
30 Mar 08
I don't see why the size of someone's feet should matter. I can be sure that big feet are not always a turn off as I have bigger feet than my partner! He has fairly small feet for a man and that's great - it means he can fit them under the kitchen sink!