What question would you not answer on Moment of Truth on tv?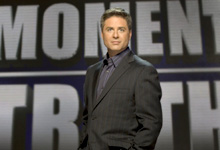 United States
March 28, 2008 2:17pm CST
At this point in my life they could ask me anything and there is nothing I would have a problem answering. I'm sure if I wanted to be a contestant on the program they wouldn't even want me. I would be no fun! Is there one question that you would not want to have to answer on the program Moment of Truth? Would you risk your family and friends all for the sake of money?
7 responses

• United States
29 Mar 08
Personally, I think this show is Discusting. There are a lot of things I have done in my past, etc. I would NEVER share with the general public, and no amount of $$ would be worth it. So you will never see me on a Show like this, and I am Glad they are ending this Show after this season, and hope they never bring a show like this back again. Maybe I am out of the norm, but this is my opinion.

• United States
29 Mar 08
I totally agree with you. People have messed up their lives for money and I think the people who started this show should be ashamed of themselves.

• United States
6 May 08
I agree. I will not watch the show. I glad it is getting canceled.

• United States
29 Mar 08
I am not brave enough to appear on that show. My husband pretty much knows my past but I would not want the world to know about it lol


• United States
9 Jun 08
will ever cheat on your wife??? i will be lying to say no cos i am not sure if i wont meet Toni Braxton someday

• United States
9 Jun 08
tyra banks was asked a Q: do u jealous Oprah and she said no, wat a stupid lie and if oprah were to be asked d same Q and she says no she will be lying too cos Tyra has got somettin wal mart dont sell

• United States
29 Mar 08
i would go on it,it would be easy money but like you i have nothing juice to hide so they wouldn't want me. i don't think i have done anything to hide. i was a good gorl for the most part growing up and when i wasn't mom always found out. and it was little things like snecking out at night and that was all before i meet my husband then after my hsband i was always with him and then we had kids and if i leave the house i have kids with me. if i did have something to hide i don't think i would risk it,the money isn't worth it.

• United States
28 Mar 08
I don't think there's anything I wouldn't say...I don't have much to hide that people don't already know and nothing that will ruin me or hurt my marriage. Because I don't keep nasty secrets like th people already on the show. I think I'll go for the money, but people should learn to STOP at a certain point.