Cell Phone Cover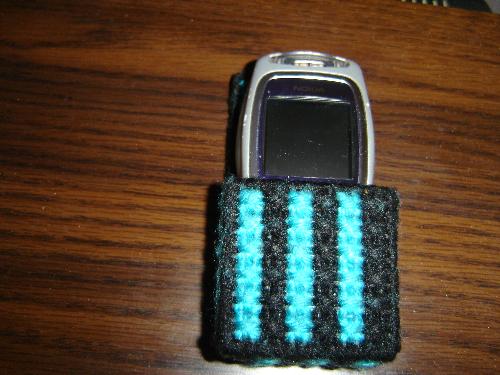 United States
March 30, 2008 3:41pm CST
I do have a cell but it's not a flip phone. More than once my phone called someone on my call list. I decided that something needed to be done instead of replacing the phone. It's relatively new and has a camera. I made a cell phone cover to protect the numbers. Nobody has made fun of me yet..lol What's your opinion, please. Thanks for any feedback.
6 responses

• Canada
30 Mar 08
That is really cute. I don't have a cell phone like that. Mines a flip phone. I do have a camera on it and I have a cell phone cover for it to protect the camera itself. I wish I had a phone like that. I want one of those covers. Good job as you really can't find covers like that and any good cell phone covers for the straight phones that protect it from calling people on your list let alone random numbers.

• Canada
1 Apr 08
I see that you like crafts. What other things have you made?

• United States
8 Apr 08
Oh that is so cute! Pretty ingenious I must say! I would never have thought to do something like that.

• United States
8 Apr 08
I don't have a cell phone cover for my phone. I just have a cheap prepaid phone to use. I only use it for tng mainly. Mine iflip phone either. I think you can auto program your cell phone to not dial any numbers unless you manually choose to dial yourself. That way it does not call someone until you are ready to do so. It should be under your settings, under speed dialing. You can turn that off or on when you need to use it or not.

• United States
1 Apr 08
We used to have those types of phones and it would drive us nuts when our phones were in our pockets and we would bend over just to have some of the numbers pressed on the phones and then someone come online saying 'hello...hello' Sure glad we got the flip phones cause now that never happens. I like your idea of the cover. Hope it works out for you.

• United States
23 Oct 11
i also have a cell phone and it is not a flip phone either although i do like flip phone but after a while phones that do not flip open began to grow on me i am always but calling someone if i accidentally but call my boyfriend he will sit there an have his own little conversation with my but haha whenever i get some more time on my hands i am planning on knitting my own cell phone cover my sister made herself one and it turned out really good