Does wheather make you happy or sad depending on what it is like outside?

United States
March 31, 2008 8:39am CST
I woke up this morning full of energy and ready to start the week. I felt great and everything. Now it is really gloomy and rainy outside and I suddenly feel tired and gloomy myself. I am trying not to look out the window and get myself to wake up but it isn't working. Does this happen to you?
4 responses

• United States
31 Mar 08
Yes I am so like you. My boyfriend thinks I'm nuts. If it is sunny and warm that reflects on my mood hence I am sunny and warm. Cold, gloomy, or rainy I feel tired and crabby. And that is what it is supposed to be today. Ick.

• Canada
31 Mar 08
When bad weather makes someone feel sad all the time, it's called Seasonable Affective Disorder. We all feel somewhat gloomy if the weather's been bad for a long time, but some people, including me, feel extremely rotten when this happens, sometimes to the point of needing medication.

• Canada
31 Mar 08
Yep! That definitely happens to me. When it's rainy and dark, I usually feel sleepy.. and being a person who doesn't nap, it means I don't accomplish much. When the weather is bright and sunny (and eventually warm!!), I'm energized and want to get things done.

• United States
31 Mar 08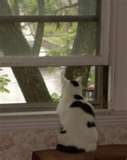 Yes it sure does and no matter what I do, it stays with me the whole time. Today it's raining just like yesterday and the day before and it's suppose to carry on for the next few days. UGH. Yesterday I slept on the love seat because I was so sleepy from all the gloomyness and rain. I'm going to try to do some mylotting today... we'll see how long I last.