Would you buy a paternity test?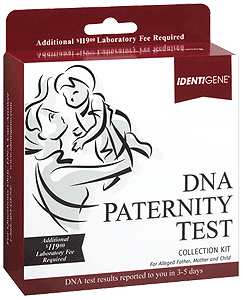 United States
March 31, 2008 12:23pm CST
My mom told me the pharmacy sells these now. I found it to be shocking. Over time we will be able to so much in our own homes. I think I if I needed to take one. I would use one of these. If you knew your friend fathered a neighborhood child? He also knows the child looks just like him. The mother was keeping him from knowing. Just to keep getting another dead mans check. Would you tell him to get one. Then test his god son and himself to bring it to the attention of the lying mother? This man is my very close friend. The child plays in my house and with my sisters kids. The father is the god father to this child.

7 responses

• United States
1 Apr 08

Oh my god for real? That would be great and amazing all rolled into one. And I dare say alot cheaper then running to a clinic to get tested. This will be great for alot of reasons but one thing is that now those daddies out there that keep denying their children all the time and not having the money for testing will be solved easier now. But this shouldn't take the place of a real one. It should just be one to rub it in their face a little and do a little dance and say, see I told you..

This really,really great. My brother has 5 kids and my mom swears one isn't his because they were broke up and got back together and my mom would buy this in a heart beat. But I don't think it should be used that way that would just break them up again. I say hey they were broke up, If he had the chance to mess around he would have also. Why should it be any different for a woman. He took her back before they found out she was pregnant that should be good enough and love should prevail.

• United States
1 Apr 08
That child's father should know about his kid. There is no promise that any two people will remain together forever.

• United States
3 May 08
They have been back together for 8 years since and I think it is his kid but my mother is the one who thinks otherwise. Not all kids have to look alike. I don't and she doesn't really know if the childs mother even did sleep with someone just that my mother suspects it. That is why I think nothing really should be done. She could have been pregnant when they split since they only split for a week or two before getting back together. Just because my mom thinks she is a Blankty doesn't mean she was.

• United States
1 Apr 08
I would do it if I was him if he intends on paying for that child. It sounds like he does and he should be there for his son. If the mother knows the truth she is really screwing her kid up and that isn't right. That child deserves to know who his real dad is and his dad needs to be a part of his life if your friend is his dad.

• United States
1 Apr 08
Oh my friend is part of his life. he is the child's god father. That is why I keep telling him he has to speak up. Ky,is already starting to wonder about his father. Everyone is talking behind their backs.The mother hates me and laughs in my face. We be outside talking for hours. She won't say anything to me. because she knows I know the secret.

• United States
1 Apr 08
That mother should be ashamed of herself. She could screw that kid up good with her crap! I would get in her face if I ever saw her about that. The way I feel about it, screw with adults all you want and their feelings but leave kids alone and do the best for them that you can, and that includes not keeping them from a biological parent. Someone needs to kick her in the azz...


• United States
1 Apr 08
I did not know that part.Then I have no need to ever get one.

• United States
31 Mar 08
I would just go to the doctor to be sure. I would take some things to use at home, but a PATERNITY TEST? I think some of these pharmacies are taking things a bit too far with the at home paternity tests.

• Canada
31 Mar 08
How could there be a home paternity test? I thought it could only be found out through DNA testing through bloodwork or mouth swabs? I wouldn't trust a store bought test like that even if they were found to work. Even with my pregnancies, although I used a home test first, I still went to the doctor's for a blood test to confirm. As for the reasons to get the test done, usually it has something to do with child support payments, and those tend to need to go through the courts when paternity is being disputed. In that case, the blood test and/or swab test would have to be done anyways.

• United States
31 Mar 08
The home test is a swab test. Thanks

• Canada
2 Apr 08
gee I don't know, all this stuff is new, what about legal issues of the mother did not consent, and she is the legal guardian of the child, it could go to court.

• Greece
1 Apr 08
He believe that he is the god father while he is the real father? he has to know the truth! But the mother has to tell it to him and nobosy else! Its horrible to hide such an important think! Do you imagine to have a kid and to dont know it? I dont have problem that pharmacy sell paternity test! It is just a product and nothing else!