From Perfect Sunny to Wild & Wet!!

Australia
April 1, 2008 8:32pm CST
Yesterday was an almost perfect autumns day, at 24 degrees Celcuis. Today, it was wild, wet & cold. This could be the first of our rains. It would be wonderful if it rained for hours, for many weeks. This would break our drought. The wind is nearly gale force. I have heard a number of sirens so I guess there are road accidents due to unsafe driving conditions. The dogs dont like this weather & are curled up in their beds. The cats are inside. What is your Weather Like Today?
9 responses

• United States
2 Apr 08
I am so pleased that you have gotten a little rain. I hope it continues. Fall, for you? Spring here. I drove out in fog this morning, and watched the sun in the northeast come out from behind a dark roll of clouds. By the time I got to work, it was brilliant. But I also drove through fog on the way, and drizzle. I had to scrape frost from my windshield before leaving. The temperatures were a bit chilly, 50 degrees F. or less. We had our first Special Olympics track meet this evening and it was downright nippy. I am thankful to be able to see the seasons change.

• Australia
2 Apr 08
Yes, it is autumn. We didn't end up with a lot of rain, but it is very windy. Lots of car accidents. The forecast tonight is for hail & storms. Is the Special Olympics those athletes are are going to Beijing, or are trying to get into the team?

• United States
2 Apr 08
Special Olympics is competition between adults with various handicaps. I do not know if any of them ever get to go to World Olympics with more common athletes. These are people who compete against others with similar disabilities. It is for fun and sportsmanship.

• United States
2 Apr 08
We had 0ver 7 inches of snow on March 31st here in Minnesoat. HAPPY POSTINGS FROM GRANDPA BOB !!~

• United States
2 Apr 08
we had rain and wind yesterday,which continued onto this morning,but as of right now the wind has stopped and it seems quite sunny.i'm hoping it warms up today so i can open the window for my stir crazy cats.they've been begging me all week.

• Australia
14 Apr 08
Oh, poor cats, they want to be outside in good weather. One of our cats lives inside in the bad weather, the other cat comes & goes.

• United States
14 Apr 08
we had one previous that didn't care- rain,snow..he liked to play in puddles LOL (odd cat).but this bunch,they like the warm. supposed to be 60's this week,maybe they'll get their weather.

• Indonesia
2 Apr 08
its really hard to predict about the weather nowadays dear cause of global warming effect. on yesterday, from morning to afternoon we have sunshine and feel so hot in temperature but in the end of afternoon, although it was still sunshine, we having hard raining too. that was so weird, right?

so in the end we have rainbow cause effect of hard raining in sunshine


• Australia
2 Apr 08
Aren't the rainbows so beautiful. We had a large one this afternoon.

• Indonesia
2 Apr 08
yes, rainbow is always beautiful when it happened but what i more concern is the dramatic changes of weather which so hot and had hard raining in the same times. its little bit weird, am i right?


• United States
2 Apr 08
It is only 6 am but the forcast is for hot with pm thunderstorms. I had to turn the air conditioner on yesterday as it was in the 80sF

• Australia
2 Apr 08
It must be very humid then if you are having thunderstorms in this heat. We have just had a couple of hail storms & lost pour power briefly.

• United States
2 Apr 08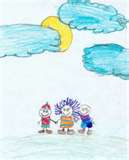 After four days and nights of rain rain rain, it's partly sunny today!! Finally the sun shows itself!! We're having a drought too but it's not as bad as it once was. I don't mind the rain but hate it when it lasts for days like this.

• Australia
2 Apr 08
Although we would love rain, rain, rain, if it comes in such downpours it can cause more damage than good with flooding.

• United States
2 Apr 08
Oh JennyB, my friend, it's absolutely gorgeous here in Southern California. It's about 70 degrees F with a slight breeze, blue skies and our garden is growing like crazy. The birds are singing and I could go on but I won't. It's a beautiful Spring we have here. And though I know you guys need the rain, I pray for saver conditions.

• Australia
14 Apr 08
I thought I had already replied to your response, but find its not there. Sorry. Lucky you having a beautiful spring.


•
2 Apr 08
WE had pretty much the same weather, Monday was summer here in Scotland, lasted practically the whole day, rain started abour 10pm. (thats several hours more than we had last year). Tuesday was very heavy rain all day, which is a typical day for Scotland's west coast.

• Australia
2 Apr 08
Lucky you with all the rain. I remember Scotland being beautiful & green.

• United States
2 Apr 08
Well hopefully this is the start or a decent rainy season to help aid the plants and wildlife etc affected by your drought of late. Mid to high 30s. Just above freezing is all. HAPPY POSTINGS FROM GRANDPA BOB !!~

• Australia
14 Apr 08
I thought I had already replied to this, but I am finding a lot of my discussions lately where my replies have disappeared. We have had some rain lately, but no where near a drought breaking amount yet.