It's spring here in Central California

United States
April 2, 2008 8:37pm CST
Here is a photo of my front yard. I have a flower called African Daisies. They are purple but they come in several different colors. Well they are all in bloom now. This is the first year they have looked so good because we use to have wild rabbits in the court who would come and eat them. I have white/purple African Daisies, and I just went and bought yellow ones. The little orange flowers I do not know what they are called but they are opening their little buds also. The daisies will bloom all spring and summer the plants never die out they live to 30degree which we do not get that low very often.
4 responses

• United States
3 Apr 08
Daisies are my favorite flower. I think that they are so simple and beautiful. It sure looks warm there. I am very envious. It is supposed to be in the 40's today with rain. I want warm and dry! Hurry up summer!

• United States
5 Apr 08
Sherrir you sure do sound like you are in the cold. My sisters got snow last week. One is in Washington State and the other one is in Idaho. I keep telling them to come see me to get some warm sun.

• United States
5 Apr 08
I am in Ohio. Today we hit 60 degrees and is sunny. It is absolutely beautiful outside.

• United States
5 Apr 08
I am glad you are warm today. Spring is here. Once summer comes we will wish for spring or fall.

• United States
3 Apr 08

It raining down down of the Californian poster. We need it, so can't complain and have lots of blooming plants. The only ones I have a long wait for are the picture in my post. Your picture is lovely and I like all kinds of flowers.

• United States
3 Apr 08
We are not getting any of this last storm up in Central CA. What part of CA are you from?

• United States
3 Apr 08
I'm in Southern California about 60 miles from Los Angeles. Normally, we are always dry, but there are times the weather keeps coming down.

• United Kingdom
4 Apr 08
This past week it has been lovely here and so warm and I noticed that the Flowers have started coming out But sadly they are announcing Rain and Snow and very cold this weekend I am hoping that they are wrong but I will see when I get up tomorrow

• United States
5 Apr 08
I hope you do not get too much snow. I do not like the snow I am glad we live where it does not do it here.

• United States
3 Apr 08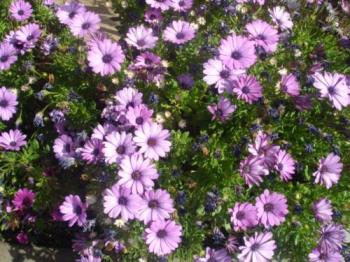 I just took pictures of our purple African Daisies. We live in Souther Cal and the Spring has been absolutely wonderful. Just like your garden ours has suddenly blossomed. It's pretty awesome. Enjoy!!!

• United States
3 Apr 08
We are suppose to get 79 degrees on Friday. That is tee shirt weather. I cannot wait.